Oatmeal Pie Recipe
A recipe for Oatmeal Pie that would make any holiday spread that much sweeter.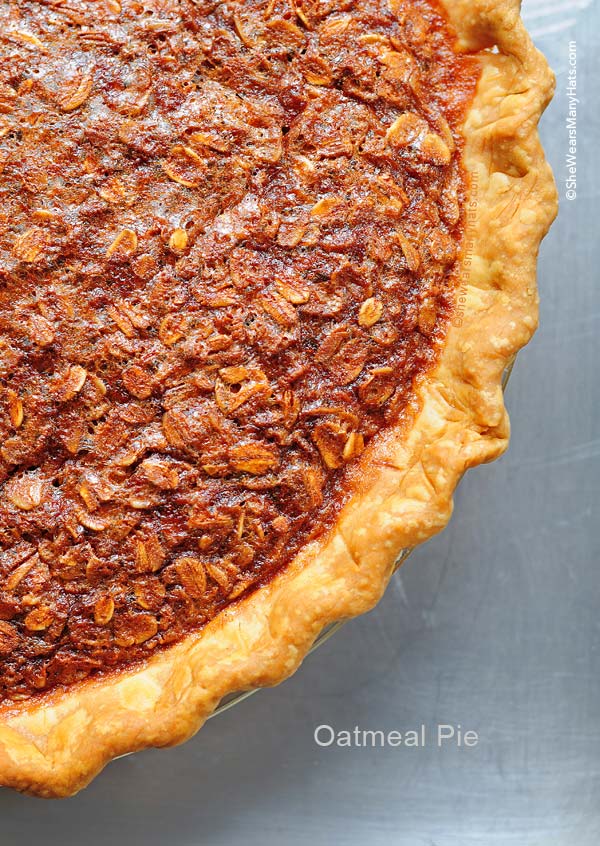 The holiday season always inspires me to try new recipes—especially desserts! And most especially pies. I like the ease of a pie, as well as the versatility. An empty pie crust is like a blank piece of paper, a blank canvas if you will. What will it become? Sweet and gooey, bubbling over with fruit goodness? Or savory and comforting with a cheese or cream base? Oh, the beauty of the pie.
This week I'm sticking to dessert pies. I've been testing a few new recipes and tweaking some old favorites, so this week I'll be sharing a different recipe each day with you. A whole week of pies! Yay for pies! So grab your fork, an empty pie crust, and save some room for a piece (or three) of pie.
This week of pie recipes begins with an old-fashioned, yet new to me, Oatmeal Pie. I've had quite a hankering for a good oatmeal cookie for about a week now which made me wonder about making an oatmeal pie. I did a quick search for Oatmeal Pie, and of course it exists. What combination of food doesn't?
Anyway, it was interesting to read about the history of this pie. According to Steven over at Food.com, in the South during the Civil War, Oatmeal Pie was made as a substitute for Pecan Pie when pecans were in short supply, or perhaps as a less-expensive option.
The ingredients are pretty much the same, with more spices added to the oatmeal version. Personally I found it more than satisfying, and by no means a substitution—more like a fine addition to the dessert table.
I think you'll enjoy this one very much. Yes, yes I do.
Oatmeal Pie Recipe
This pie is similar to Pecan Pie and oh so wonderful for any dessert menu.
Author: Amy Johnson | She Wears Many Hats
Recipe type: Dessert
Ingredients
1 cup brown sugar
2 tablespoons all-purpose flour
1 teaspoon ground cinnamon
¼ teaspoon nutmeg
¼ teaspoon ginger
¼ teaspoon salt
4 eggs, beaten
1 cup light corn syrup
¼ cup melted butter (I used salted.)
1½ teaspoons vanilla
1¼ cups quick-cooking oatmeal (uncooked)
1 (9") pie crust, unbaked
Instructions
Preheat oven to 350°F.
In a large whisk together sugar, flour, cinnamon, nutmeg, ginger and salt.
Stir in beaten eggs, corn syrup, melted butter and vanilla until combined.
Mix in oatmeal.
Pour into unbaked pie crust.
Bake for 45-50 minutes. If needed, cover crust with aluminum foil to avoid burning.
If you can wait long enough, let cool to allow filling to firm up a bit. Although served warm and gooey with a dollop of whipped cream or ice cream is divine!