Homemade Cheese Crackers with Pecans Recipe
Aunt Janie's homemade Cheese Crackers with Pecans recipe is one delicious, savory bite. These wafer-like crackers are so easy to make right and home and are perfect for entertaining, especially during the holidays.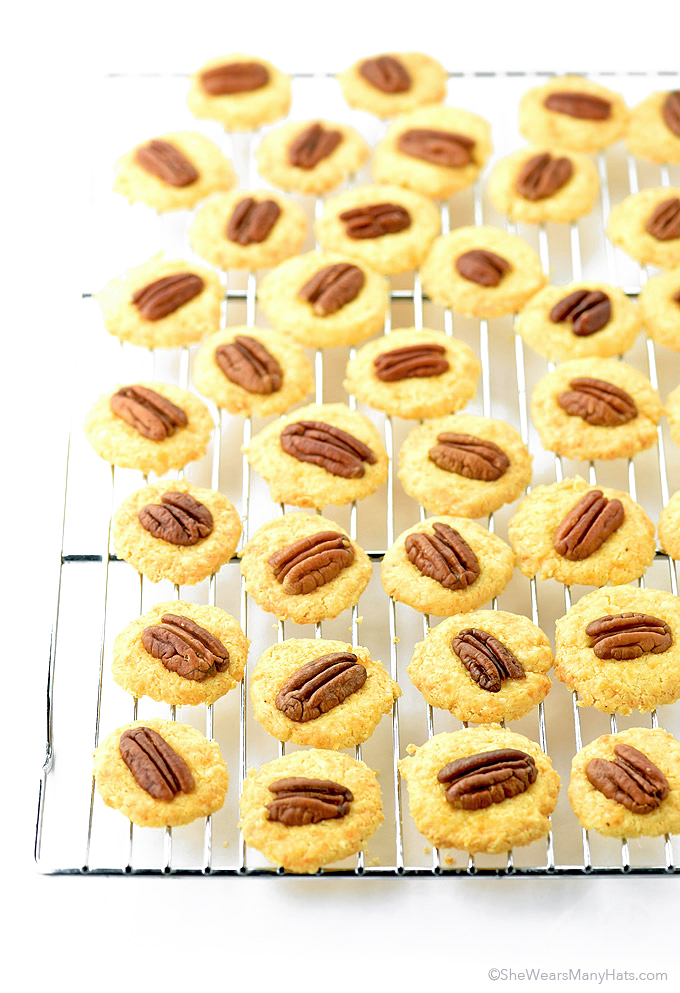 I'm sitting here watching the Hallmark Channel as I tend to do once November comes. It runs quietly in the background as I begin to write about one of our family recipes, Aunt Janie's Cheese Crackers with Pecans. Harry Connick, Jr. just purchased a lovely home from Willie Nelson and all is right with the world. I've seen this one before and I will gladly watch it again. And again. I know, I'm silly. The Hallmark channel is anything but a bite of reality, but it's what I yearn for during the holiday season—all year long, really. It makes me smile and brings me a bit of joy in our crazy world, so I watch it.
To me these Cheese Crackers with Pecans are kind of like the Hallmark Channel. Everything about them reminds me of the holidays and home and family and all things delicious. This cheese crackers recipe is from my great Aunt Janie. It's hard not to remember her smiling face when I enjoy one. It's hard not to have a smile on my face when I enjoy one. They're scrumptious. Better than any cheese cracker you can buy in a store, that's for sure. And so easy to prepare right in your own home, perhaps while watching the Hallmark Channel?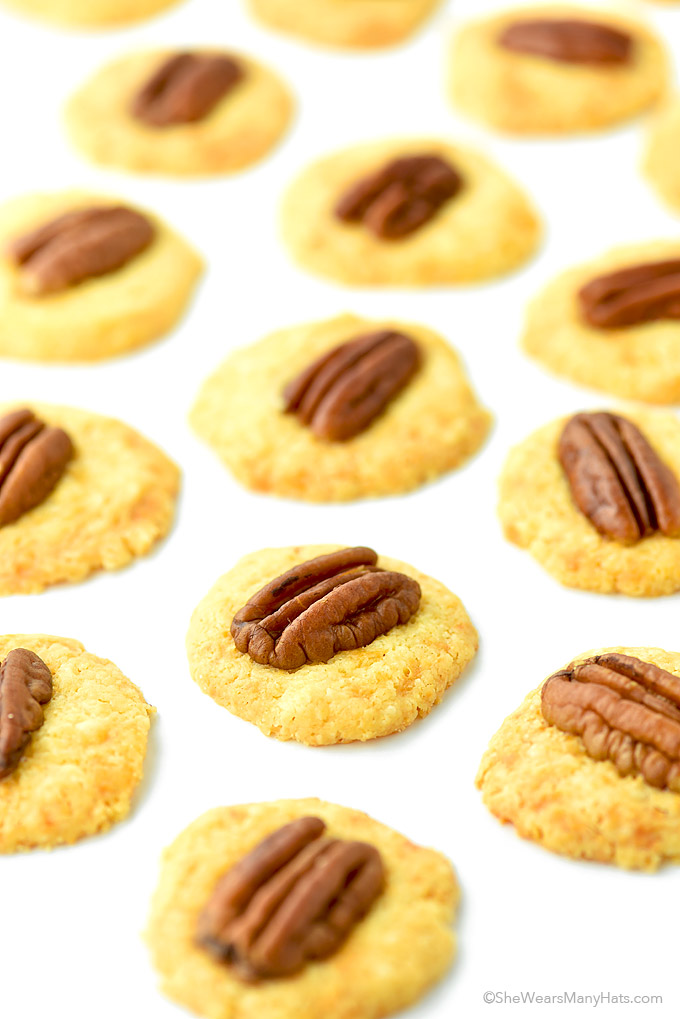 Enjoy these little bites of goodness, y'all. And happy baking! xoxo
A few more cheesy recipes you'll enjoy:
Homemade Cheese Crackers with Pecans Recipe
These homemade cheese crackers are such a simple but delicious appetizer to make for entertaining.
Author: ©Amy Johnson | She Wears Many Hats
Recipe type: Appetizer
Serves: 6 dozen
Ingredients
1 cup butter, softened
8 ounces extra sharp Cheddar cheese, grated, room temperature
¼ teaspoon salt
¼ teaspoon ground red pepper
2 cups all-purpose flour
72 pecan halves
Instructions
Preheat oven to 350-degrees F. Line baking sheets with baking parchment.
In a large mixing bowl, mix together butter, cheese, salt and pepper. Mix until blended well.
Gradually add flour. Knead dough until smooth.
Using floured hands, pinch off tablespoon pieces and roll into balls, place on baking sheet about 1-inch apart. OR roll dough into logs about 1-inch in diameter, wrap in plastic wrap and refrigerate to firm up; once dough is firm thinly slice and place on baking sheet about 1-inch apart.
Gently press a pecan half into each cracker.
Bake for 18-20 minutes. Be watchful to avoid burning.
Allow to cool. Store in airtight containers.