Chess Pie Recipe
Chess Pie is an old-fashioned classic Southern pie that stands the test of time. And with good reason.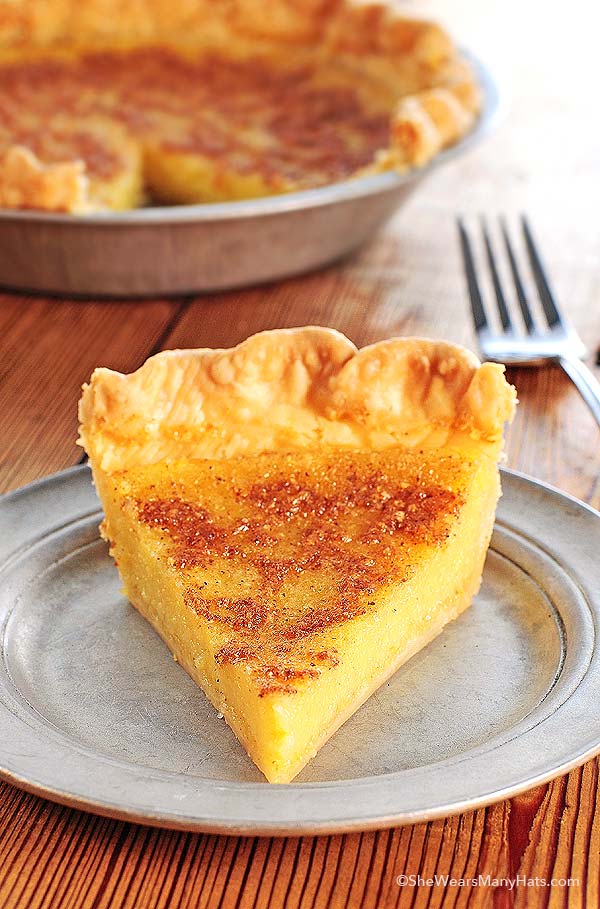 Chess Pie makes an appearance every year at our family reunion in Georgia. Regardless of how stuffed I am, there always seems to be more room for a piece of this pie. It's an old-fashioned favorite that never wears out it's welcome.
I find some of the best recipes are the more simple ones, and this Chess Pie is no exception. While it may start with humble ingredients the results are far from it. Chess Pie is a sweet custard pie with just a bit of cornmeal added. This pie lends itself well to variations, but this version is simple with a hint of nutmeg. It really needs no other adornment or extra toppings. It's good just as it is.
Even though this pie may be overshadowed on the dessert table by fancier pies, large decadent layered cakes, and dainty cookies, a Chess Pie will always be one of my favorites. It's certainly worth saving room for a piece of this.
Enjoy!

Chess Pie
A simple pie that won't go unnoticed.
Author: Amy Johnson | She Wears Many Hats
Ingredients
3 egg yolks
1 cup granulated sugar
2 teaspoons cornmeal
½ teaspoon vanilla extract
½ cup milk
¼ cup butter, melted
¼ teaspoon ground nutmeg
1 (9 inch) pie shell, unbaked
Instructions
Preheat oven to 325°F.
In a large bowl whisk together all ingredients until smooth.
Pour into unbaked pie shell and bake at 325°F for 50 minutes.
Let cool on wire rack, if you can wait that long.