Banana Bread Recipe
Everyone needs a good Banana Bread recipe to fall back on when in need of a breakfast treat or dessert. This recipe is perfect and will have your home smelling wonderful in no time. Use those ripe bananas and make this delicious Banana Bread soon. And don't forget to drizzle it with a little bit of caramel sauce.
Too many times the bananas on the counter pass the point of no return. Much too many times, I'm afraid. But no fear! Banana Bread is to be made. It must! There's no better place for overripe bananas. Plus, it's a great dessert or tea bread. And since Banana Bread is made with a fruit, I don't feel so guilty enjoying it for breakfast too, because bananas are good for you, you know, with all of that potassium and everything.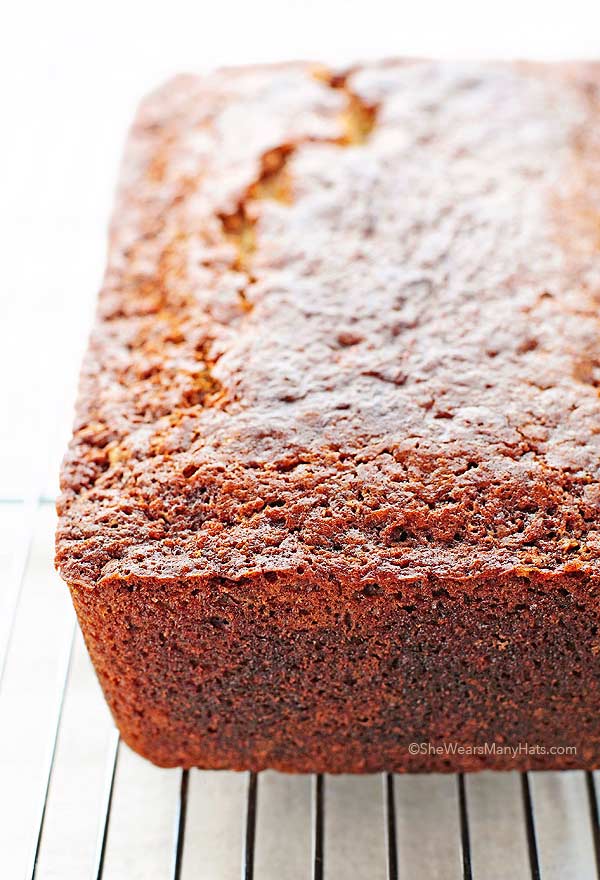 Not only is this Banana Bread recipe quick and easy to prepare, it will have your home smelling all cozy and comfy in no time. Such a lovely aroma!
Some Banana Breads can be dry and bland, but you'll find this recipe just right. Of course with a bit of Salted Caramel Sauce drizzled over the top … oh my … it doesn't get much better than that, now does it? Or skip the sauce and toast a piece for breakfast and slather with Honey Cinnamon Butter. I'd get up extra early for that.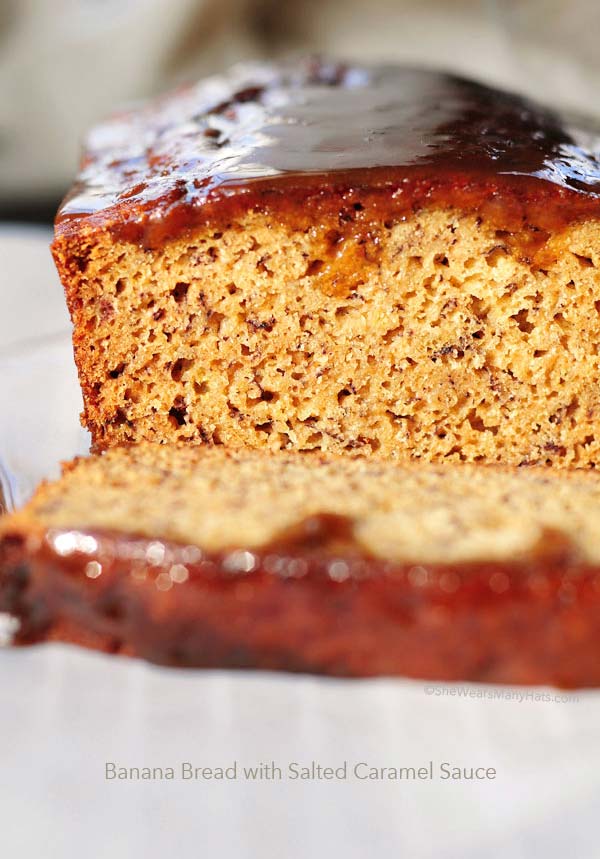 Banana Bread Recipe
Author: ©Amy Johnson | She Wears Many Hats
Ingredients
2 cups all-purpose flour
1 teaspoon baking soda
1 teaspoon baking powder
¼ teaspoon salt
½ cup (1 stick) butter, room temperature
1 cup brown sugar
2 large eggs, beaten
1 cup mashed ripe bananas (about 3 medium)
1 teaspoon vanilla
¼ cup buttermilk
optional: 1 cup Salted Caramel Sauce
Instructions
Preheat oven to 350°F. Butter one 9x5 inch loaf pan, or two 8x4 inch loaf pans.
Whisk together flour, baking soda, baking powder and salt. Set aside.
In a separate mixing bowl, thoroughly cream butter and sugar together, scraping down bowl a few times, until slightly lighter and fluffy-ish (about 4-5 minutes total mixing time). Add eggs and mix well. Add mashed bananas, vanilla, and buttermilk and beat until smooth.
Add flour mixture until just combined. Be careful not to over mix.
Pour into prepared loaf pan(s) and bake for 1 hour, until cake tester or wooden skewer inserted in center comes out clean. If baking in the 9x5 inch loaf pan, additional time will be needed, about 15 minutes.
Cool in pan 10 minutes, carefully remove and cool on wire rack.
If desired, top with warm Salted Caramel Sauce before serving.