The Southern Bird Dog Recipe
Here's another recipe from my daughter, Hope. This Southern Bird Dog recipe is a local favorite enjoyed by the hippest kids, young and old. I hope you enjoy it too!
Take it away, Hope!
Here in small town South Carolina there is a curious food called a bird dog. Before a football game, after work and just about any mealtime, people gather for good company and food. It's an institution of sorts, representing family and home. Homesickness in me manifests itself into into a craving for a Bird Dog.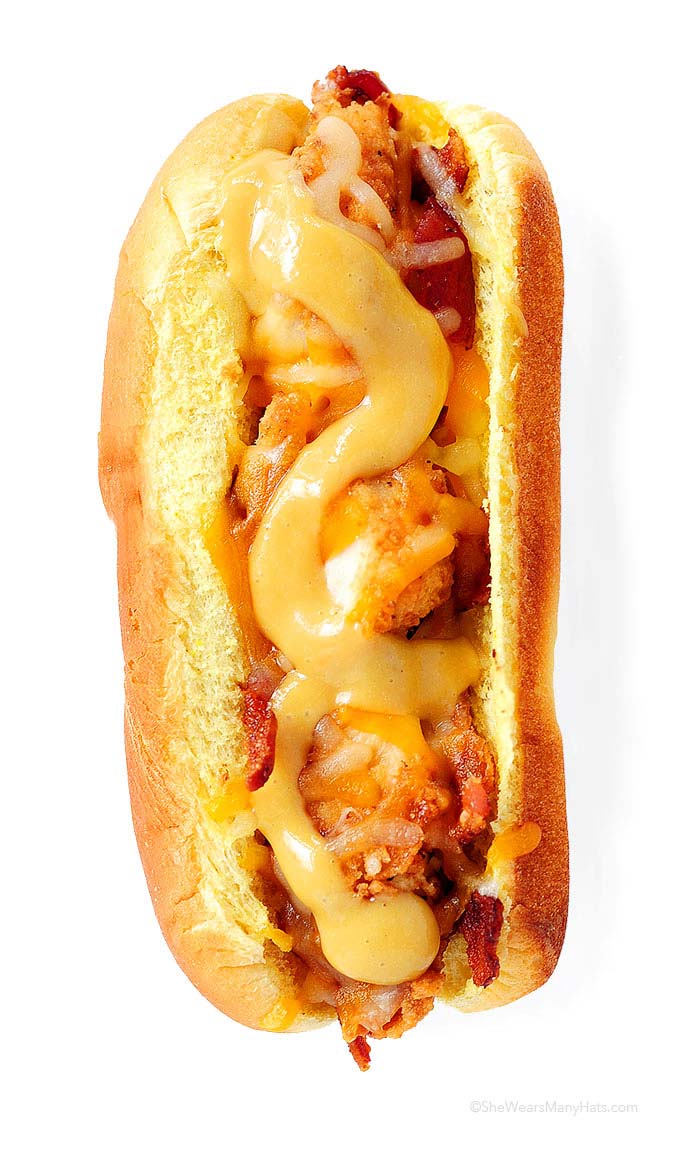 And what pray tell is a Bird Dog you ask? Well it's a hot dog bun (thus the dog) toasted is best, sprinkled with crumbled bacon, within which is nestled a crispy chicken tender layered with the dairy section's finest shredded cheese and topped off with some drizzled honey mustard.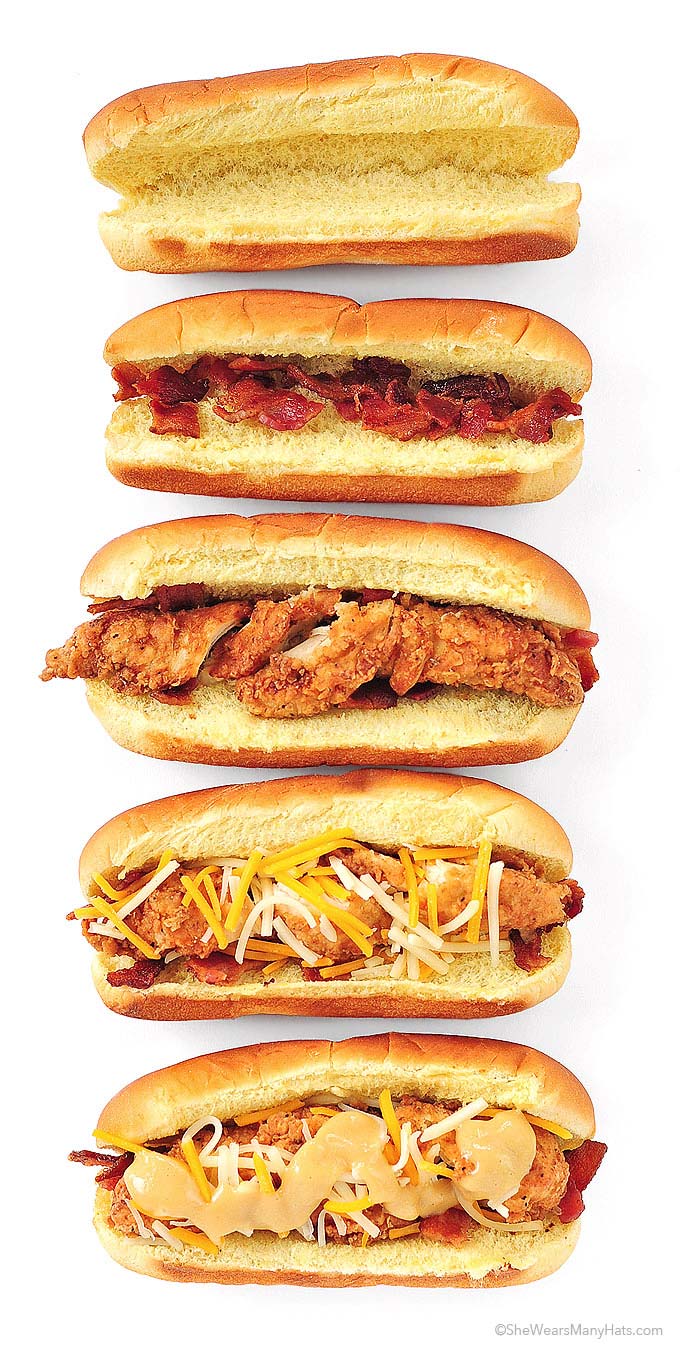 Bird Dogs are perfect for picnics or quick meals with very little preparation and hardly any real cook time. A yummy alternative hamburgers and hot dogs, and much less boring, this small town sandwich can bring a twist to mealtime. If you're on vacation, in a dorm room, or don't have use of a full kitchen this recipe is super simple, all the ingredients can be bought at a grocery storm and assembled while still having an individual and homemade taste. And with only five simple ingredients, you probably already have everything in your fridge … and might could be tempted for a snack right now!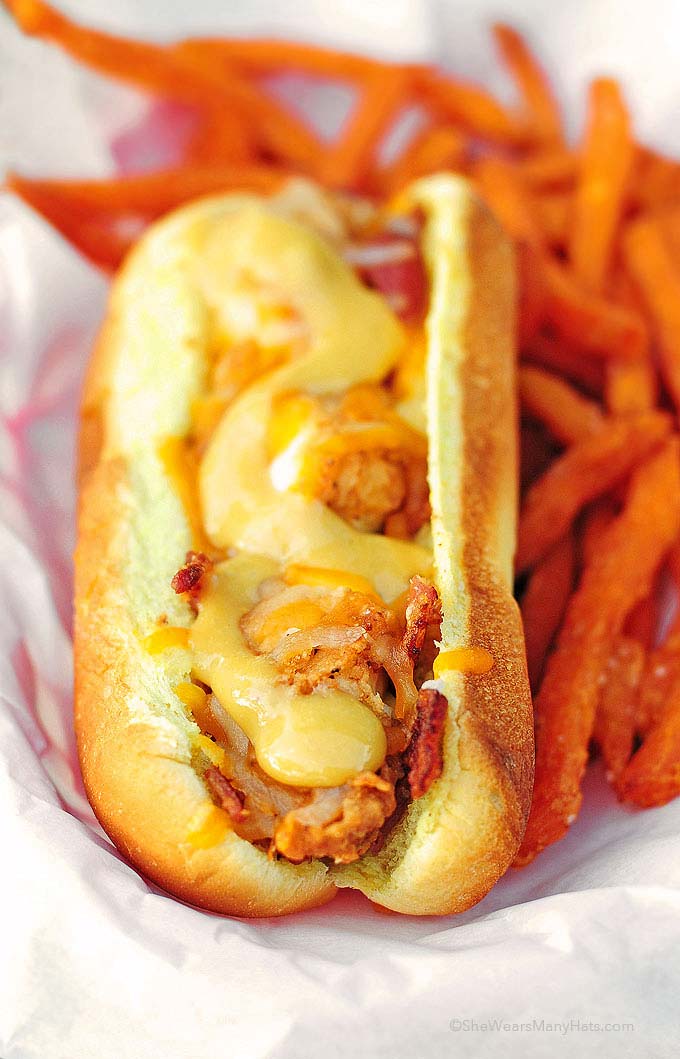 Start by cooking the bacon first because you can finish the other elements while it's cooking. About 3 pieces of bacon work for 4 bird dogs so divvy and sprinkle at your discretion. Toast hot dog buns until sufficiently crispy. Next comes the chicken fingers. You can be enterprising and make your own (here's a wonderful Chicken Strip recipe from AddaPinch.com), or you can cheat like we did and purchase a flock of chicken fingers from your local favorite chicken fingery (we cheaters went with grocery store deli brand). So tear up that chicken finger, homemade or other, so as to fit the hot dog bun. Sprinkle with a tablespoon of shredded cheese, squirt yourself a hearty helping of honey mustard and behold the most wonderfully simple sandwich thing you've ever dared taste. Some people use ranch dressing instead of honey mustard which is occasionally considered sacriledge, but to every man his own.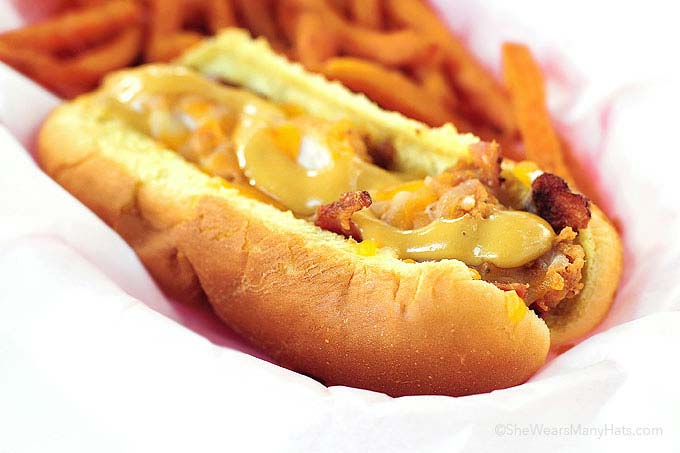 Enjoy!

The Southern Bird Dog Recipe
A local Southern favorite that I think will become your favorite too.
Author: ©Amy Johnson | She Wears Many Hats
Recipe type: Main
Serves: 4
Ingredients
4 hot dog buns (toasted if desired)
3 pieces of cooked crumbled bacon
4 fried chicken fingers/strips/tenders or whatever you call them
4 tablespoons shredded cheese
8 teaspoons honey mustard
Instructions
Preheat oven on broil.
Layer crumbled bacon in the bottom of the hotdog buns.
Tear and place chicken finger(s) so as to fit the length of the hot dog bun, sprinkle with cheese. Place on baking sheet under broiler for about 1 minute to melt cheese.
Top with honey mustard.