Spicy Baked Salmon with Roasted Vegetables
This Spicy Baked Salmon with Roasted Vegetables Recipe is a delicious and nutritious meal in just one easy recipe.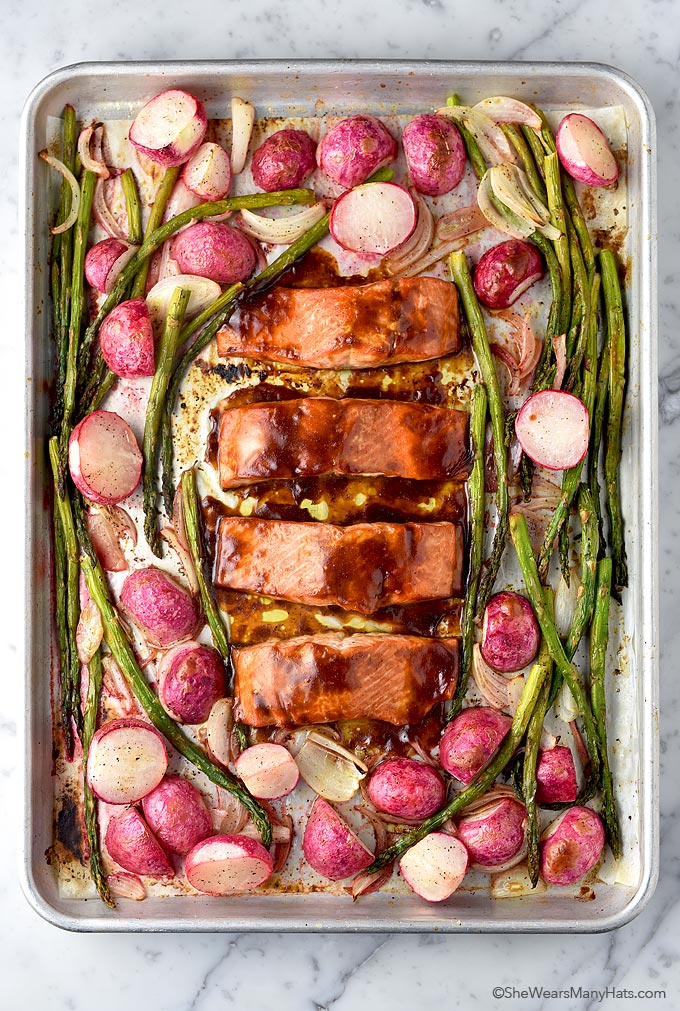 Sometimes a quick and simple dinner means burgers, fried food, and greasy takeout. Maybe you know how that goes sometimes? Not great for your arteries or that bikini body, right? Well let me tell you, I've been there and eaten that, and have paid the price with the awful icky feelings afterwards. Enter this easy Spicy Baked Salmon with Roasted Vegetables. It's the perfect answer for an easy meal any night of the week. It's super simple, tasty and good for you!
Salmon is for sure a fabulous go to when it comes to a lean and nutritional meal, but do we know why? Salmon is a good source of source for omega-3 fatty acids, lean protein, vitamin D, vitamin B12, selenium, niacin, phosphorus and vitamin B6 just to name a few. And let's be perfectly honest, the radish is that weird vegetable cousin that you're not quite sure about. Packed with vitamin C and other helpful nutrients like folate, fiber and potassium, radishes are actually awesome. Do you know how to prepare them? One of my favorite ways is to roast them!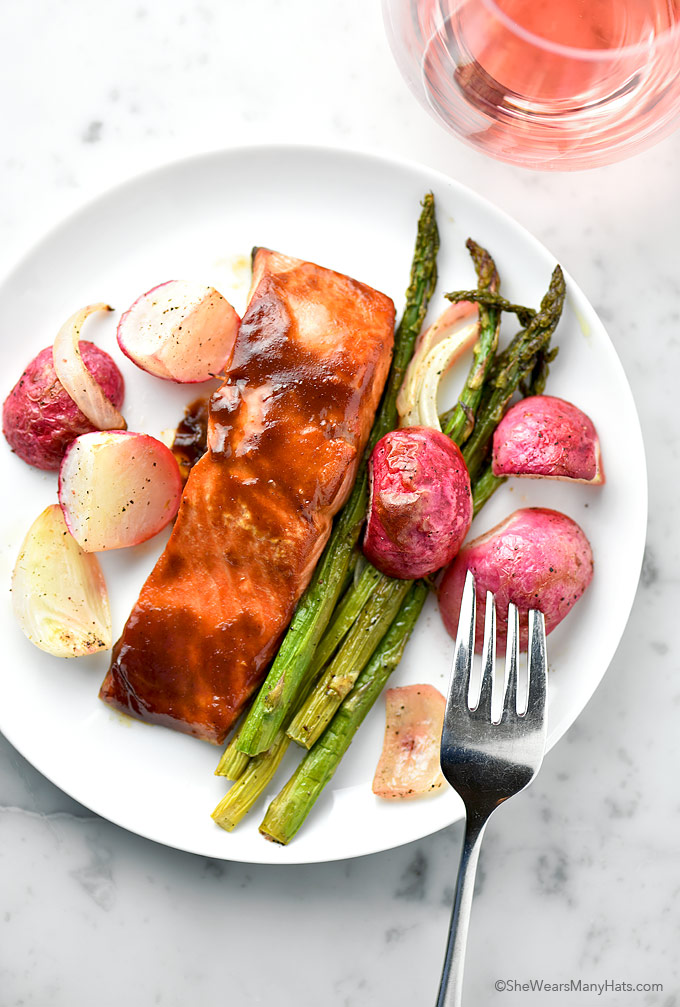 As I mentioned this Spicy Baked Salmon with Roasted Vegetables recipe is super easy. Begin by coating the salmon with Hoisin Sauce. You can make your own or buy it pre-made. Set the salmon aside while the vegetables are prepared. The radishes will need a bit more cooking than the asparagus and onion. Toss the radishes with olive oil, salt and pepper, then spread on a baking sheet and roast for 10 minutes. Then add the asparagus and onion and roast for another 10 minutes. Finish up by making room for the Hoisin coated salmon in the center and bake until preferred doneness. So easy!
I hope you enjoy this nutritious and delicious meal as much as our family does! Happy cooking, y'all!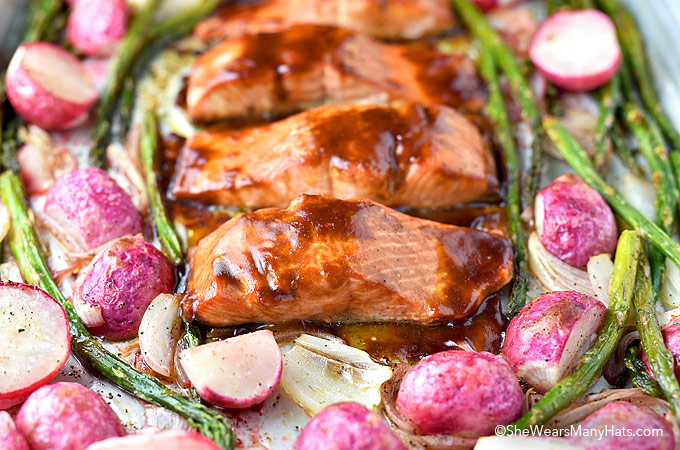 A few more salmon recipes you will enjoy:
Spicy Baked Salmon with Roasted Vegetables
A delicious and nutritious meal that is very simple to prepare for any night of the week.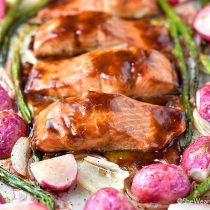 Ingredients:
2 ounces Hoisin Sauce*
2 teaspoons hot sauce
4 6-ounce salmon fillets
1 bunch radishes, trimmed and halved
1 bunch asparagus, trimmed
1 large yellow or purple onion
2 tablespoons olive oil
1 teaspoon kosher salt
1/2 teaspoon ground black pepper
half of a lemon
Directions:
Preheat oven to 400-degrees F. Line a large baking sheet with baking parchment.
In a medium bowl, whisk together Hoisin and hot sauce. Add salmon fillets and coat all sides with Hoisin Sauce. Set aside.
Toss radishes with olive oil, salt and pepper. Spread in a single layer on lined baking sheet. Squeeze lemon over top. Roast in oven for 10 minutes. Add asparagus and onion and toss to coat; spread in single layer and continue to roast for another 10 minutes. Move vegetables to sides of pan to create space in the center for salmon.
Place salmon in center of pan skin side down. Baste with any left over Hoisin; bake for 10 minutes (or more depending on desired doneness). Switch oven to broil; broil for 2 minutes.
*Make your own (Hoisin Recipe) or use store-bought.