Pistachio Smoothie Recipe
This nutty and slightly sweet Pistachio Smoothie recipe is so tasty and perfect for a cool sweet treat.
Today is a day of celebration! My sweet friends, Josh and Maria, from Two Peas and Their Pod, are having their first baby next month, and a bunch of their friends have gotten together to throw a virtual surprise baby shower. Maria and Josh are a fun couple that share their love for cooking (especially cookies – check em out!) with all of us. They must be tickled in anticipation of the newest pea to their pod. I know we all are!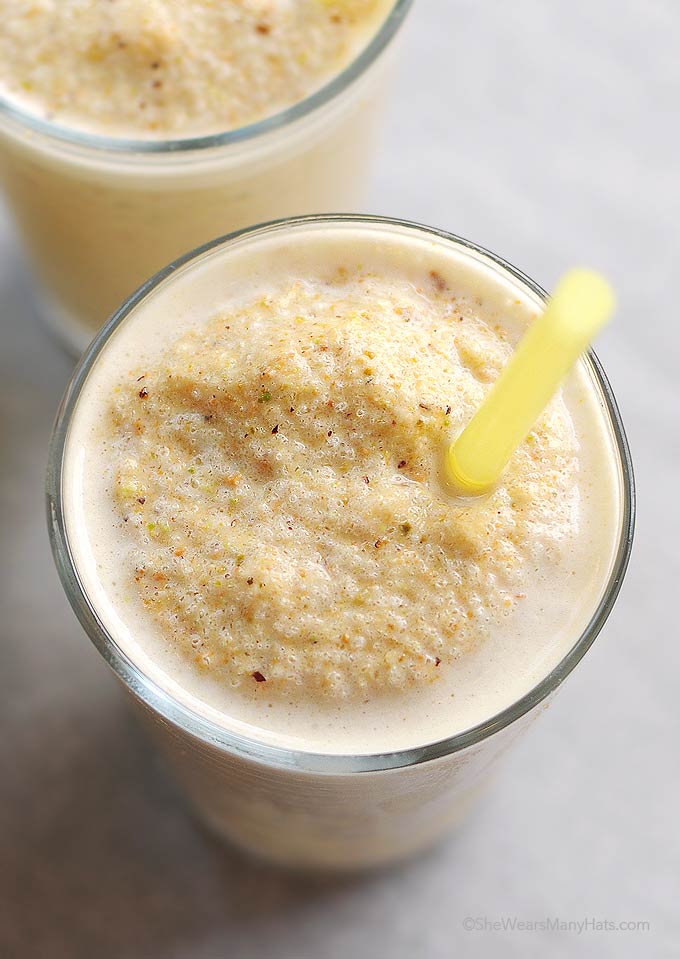 Today I'm sharing a Pistachio Smoothie recipe. It's a no fuss, tasty treat. And makes the perfect party beverage when made in mini portions, or try a full size smoothie for a meal or a snack. I've enjoyed it for breakfast. Pistachio and banana is a great breakfast combo, don't ya know?
Pistachios are packed with nutrition that Josh and Maria will definitely need once the baby arrives. A handful of pistachios contains much of the daily recommended vitamins and nutrients, like vitamin E, and those energy rich B vitamins. You'll also find that pistachios are a good source of antioxidants, and monounsaturated fatty acids, such as oleic acid.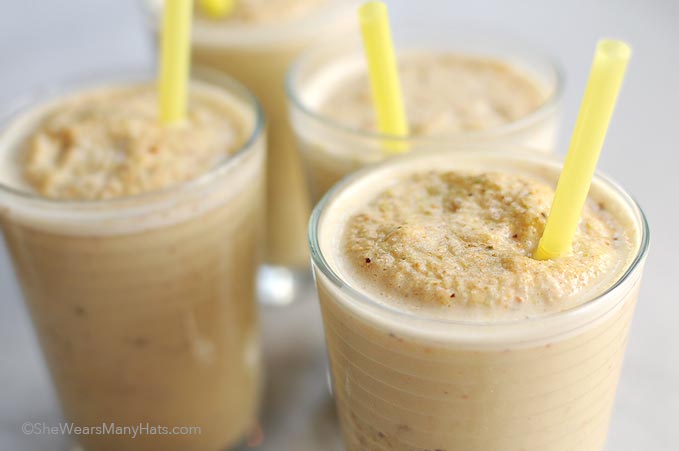 The recipe below is basic, certainly adjust the sugar amount to your liking, and if you're a banana fan, toss one in to thicken things up. Smoothies are always fun to make because you can create endless combinations as you go.

Pistachio Smoothie Recipe
Today I'm sharing a Pistachio Smoothie. It's a no fuss, tasty treat. Make mini portions for a party, or a full size smoothie for a meal or a snack.
Author: Amy Johnson | She Wears Many Hats
Serves: Makes 2 servings (approximately 24 fluid ounces).
Ingredients
⅓ cup pistachios
1 cup milk
2 teaspoons sugar
2 cups ice
8 oz. vanilla yogurt
1 banana (optional)
Instructions
Add the pistachios, milk and sugar to a blender and blend until pistachios are finely chopped.
Add ice and vanilla yogurt and blend on high until smooth.
Without banana, makes approximately 24 fluid ounces.