London Broil Recipe
London Broil is a delectable and comforting main course perfect for the cooler seasons.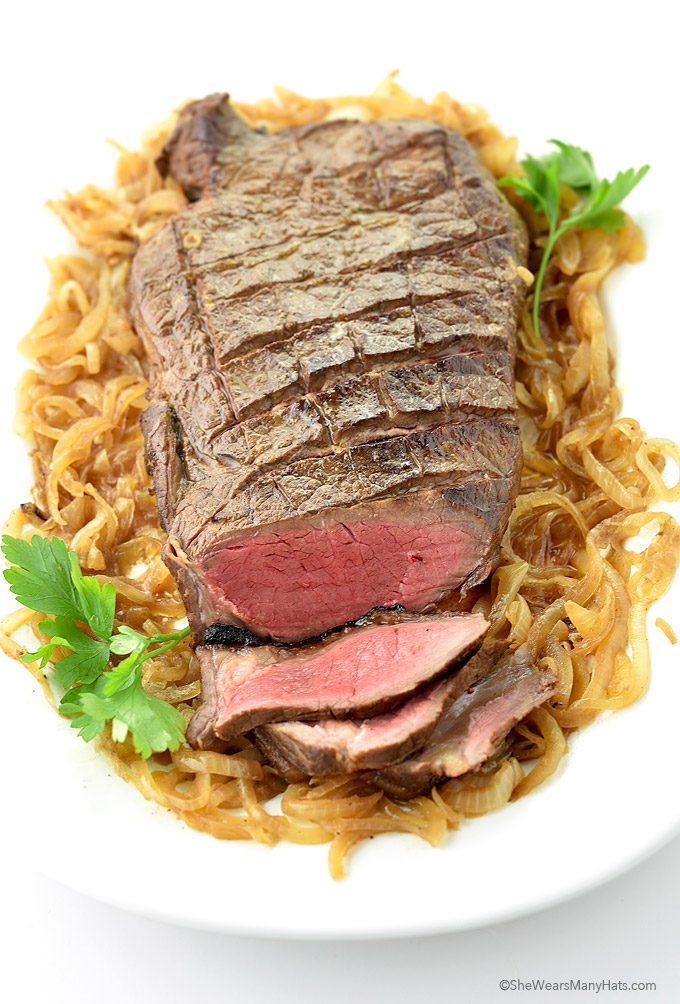 Did you know that London Broil has nothing to do with London, England? Most Londoners have probably never even heard of the dish. Where this savory beef dish got the name is unclear, but it certainly sounds fancy enough, doesn't it? In all actuality, London Broil is anything but fancy. Relatively inexpensive cuts of beef, like flank or top round, are typically used for London Broil, and easily prepped in no time.
You won't believe how easy this London Broil recipe is to prepare. Whisk together a simple marinade, score the beef on both sides, place the marinade and beef in a zip-top bag or covered dish in the refrigerator for at least 8 hours. When ready to cook saute a couple of sliced onions, then cook the onions and marinated beef under the broiler until preferred doneness, about 5 minutes or so for medium rare. Thinly slice against the grain and enjoy! Such an easy main entree recipe with tasty results! Plus the leftovers (if there are any) are just perfect for sandwiches or soups.
London Broil Recipe
A delicious and easy main entree. Leftovers are perfect for sandwiches or soups.
Author: ©Amy Johnson | She Wears Many Hats
Recipe type: main
Serves: 6
Ingredients
½ cup olive oil
½ cup red wine vinegar
¼ cup Worcestershire sauce
1 tablespoon soy sauce
2 cloves garlic, grated/minced
2 teaspoons dry mustard
½ teaspoon ground black pepper
1½ pound London Broil (flank or top round steak)
1 tablespoon butter
2 medium onions, sliced
Instructions
In a large zip-top plastic bag (or shallow dish) combine olive oil, red wine vinegar, Worcestershire sauce, soy sauce, garlic, dry mustard and pepper.
Score beef on both sides in 1-inch squares and place in bag (or dish) with marinade. Seal bag and turn to coat meat thoroughly with marinade. Cover and refrigerate for 8 hours or overnight; turn a few times during marinating.
Melt butter in a skillet and saute sliced onion for 5 minutes.
Preheat broiler in oven. Place meat along with marinade in baking dish, along with sautéed onions. Broil for 5 minutes. Turn meat and carefully baste with marinade in pan. Continue cooking to preferred doneness. Check with meat thermometer for doneness.
Let rest for 5-10 minutes. Slice thinly against the grain. Serve with sauteed onions.