Coleslaw Recipe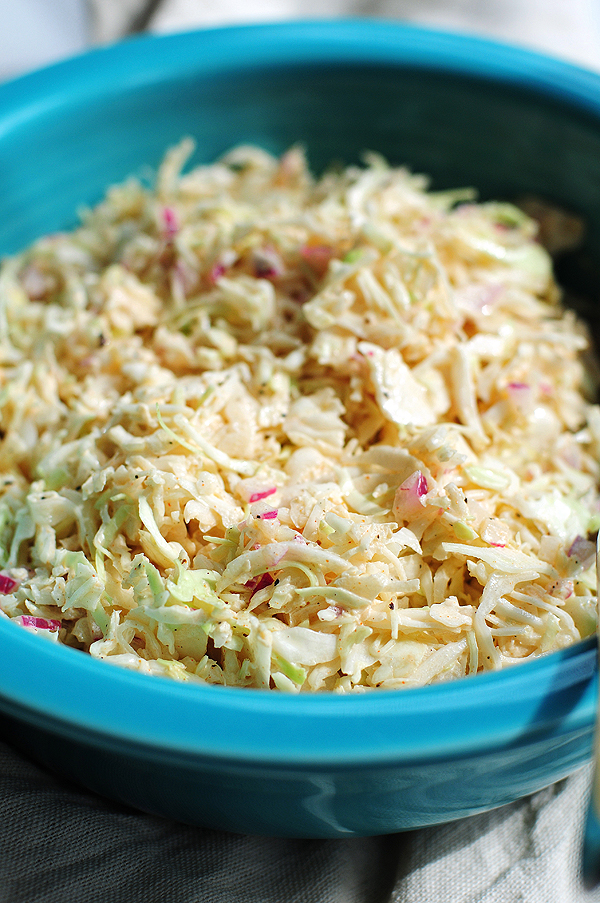 Coleslaw is such a basic dish, but it can round out a meal nicely. Fresh and crunchy, this coleslaw is the perfect pairing for pulled pork, fried fish, and hamburgers. I've even been known to eat it alone with ruffly potato chips. Don't judge. It's a good combo.
There are about eleventy hundred different varieties of coleslaw out there. While I like them all, the one I'm sharing with you today has been my go-to cole slaw recipe for many years now. As I mentioned before is a great partner for many dishes, but we can't serve pulled pork without it. Here in the South it may be considered a sacrilege to serve pork without a coleslaw. At least in my South.
As quick and easy as this coleslaw recipe is to put together, it's all right with me if we serve it with most meals, pork present or not. This can be prepared in very little time. If you're in a rush purchase the pre-shredded angel hair cabbage in the refrigerated section of the produce department. It works great for this coleslaw recipe. Otherwise, a hand shredding with a finer grate, or using a food processor with a few quick pulses will create the perfect shred.
Try this Coleslaw Recipe as a side dish for your next cookout, picnic, or fish fry and let me know what you think.
Enjoy!

Coleslaw Recipe
A quick and easy classic coleslaw recipe.
Author: Amy Johnson | S She Wears Many Hats
Serves: About 6-8
Ingredients
6 cups of thinly shredded cabbage (about 10 oz.)
¼ cup finely diced red onion
3 tablespoons mayonnaise
1 ounce rice vinegar
¼ teaspoon paprika
¼ teaspoon salt
¼ teaspoon pepper
additional salt and pepper to taste
Instructions
MIx together all ingredients until combined.
If desired, add a bit more mayonnaise and/or vinegar to preferred consistency.
Additional salt and pepper to taste.
Cover and refrigerate until ready to serve.