Buffalo Chicken Chili
A recipe for Buffalo Chicken Chili that will disappear quick so make double!
It's cooling down out there and that means our chili pot is warming inside. I'm a big fan of chilis and stews, not only because they're satisfying and the perfect comfort food, but because usually they are very simple to put together and the aromas make our home feel warm and cozy. Plus, they are a cinch to make and serve for large groups, especially for game times!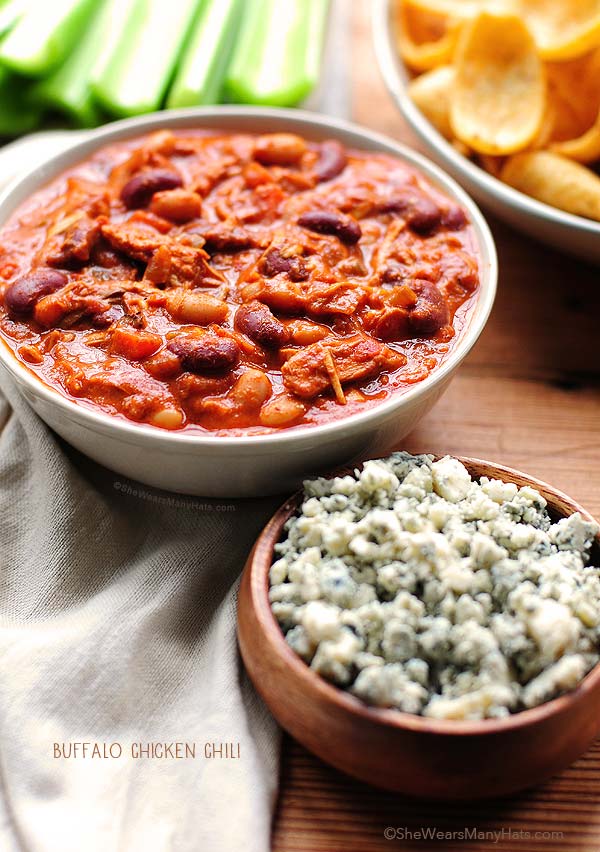 Our pantry is always stocked with chili and stew ingredients: a selection of Bush's Beans, canned tomatoes, warm spices, broths, and basic veggies like carrots, potato, and celery. We always know that a pot of chili or stew can be put together fairly quickly to mingle away creating a comforting meal to end our day.
Last week I made a pot of Buffalo Chicken Chili before heading out of town, so leftovers could be saved for my family to enjoy while I was gone. Boy, was it a winner. I should've made a double batch, because there wasn't a whole lot leftover. Serve it alone or with cornbread, salad, and/or corn chips for a spicy meal of goodness. I'll be remembering this one for game time meals, as well as cooler evenings when we feed a crowd, like maybe after a night of trick-or-treating? Enjoy!

Buffalo Chicken Chili
A scrumptious recipe for Buffalo Chicken Chili that will disappear quick so make double!
Author: Amy Johnson | She Wears Many Hats
Ingredients
2 tablespoons olive oil
1 large onion, diced
1 rib celery, diced
1 large carrot, peeled and diced
3 cloves garlic, chopped
5 tablespoons chili powder
2 teaspoons ground cumin
1 pound chicken, cooked and shredded
1 (16 ounce) can BUSH'S® Kidney Beans, drained
1 (15.8 ounce) can BUSH'S® Great Northern Beans, drained
2 (15 ounce) cans tomato sauce
1 (15 ounce) can crushed tomatoes, undrained
¼ cup Louisiana-style hot sauce
4 ounces cream cheese, softened
crumbled blue cheese (optional)
Instructions
Heat oil in a 4-quart saucepan over medium heat. Add onion, celery, carrot, garlic and dried spices. Cook 5 minutes; stir often.
Add chicken, beans, tomato sauce and crushed tomatoes. Simmer 20-25 minutes.
Stir in hot sauce and softened cream cheese until smooth.
Serve topped with crumbled blue cheese, if desired.
 (This post is sponsored by Bush's Beans, but as always, all opinions are my own.)