Baked Sweet and Spicy Chicken Breasts Recipe
You'll find these delicious Baked Sweet and Spicy Chicken Breasts to be super easy and perfect for any night of the week.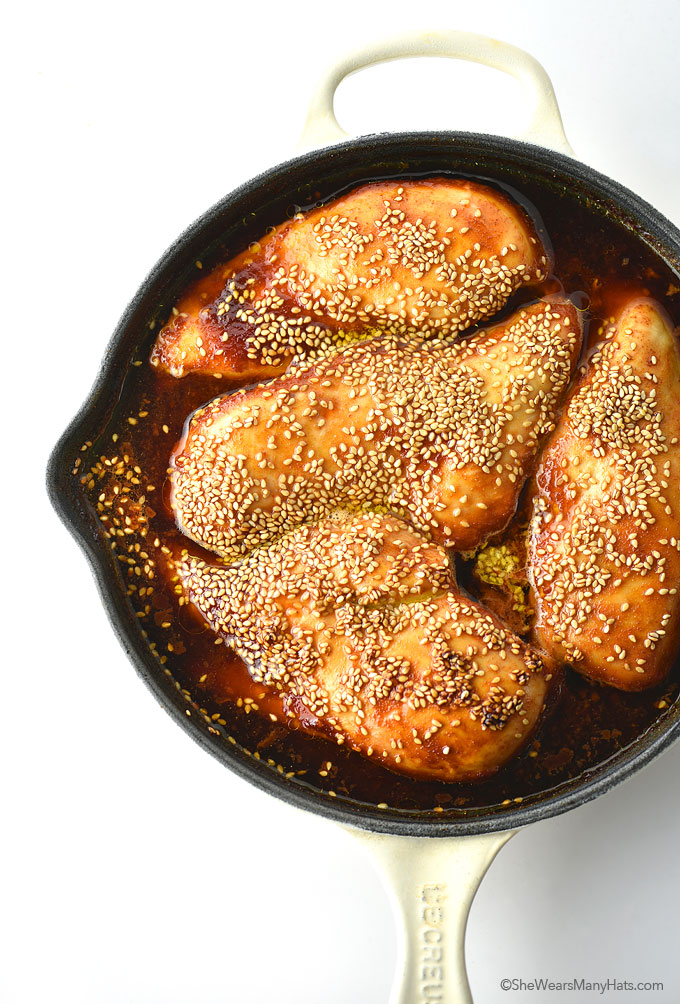 Once upon a time there was a mom. A mom at the end of long day, dead tired on her feet, running late, with dinner yet to be fixed for the family that she loved. She wanted nothing more than to feed her family a healthy yet non-boring meal, and quickly. With a few chicken breasts on hand and some other basic ingredients, she whisked up a concoction to mingle with the chicken, stuck it in the oven and voila! Winner, winner, chicken dinner! They ate happily ever after.
The end.
Well almost.
First, a little bit about this easy and delicious Baked Sweet and Spicy Chicken Breasts Recipe, and then you can get to it. I adapted our favorite sauce from our Sweet and Spicy Grilled Chicken Wings recipe for this quick baked chicken breast version. It took no time to whisk up the honey, hot sauce, soy sauce, ground ginger, and garlic powder. Crazy easy, right? The sauce was then poured over the chicken, then a sprinkling of toasted sesame seeds was added before it was put in the oven to bake until done. That's it.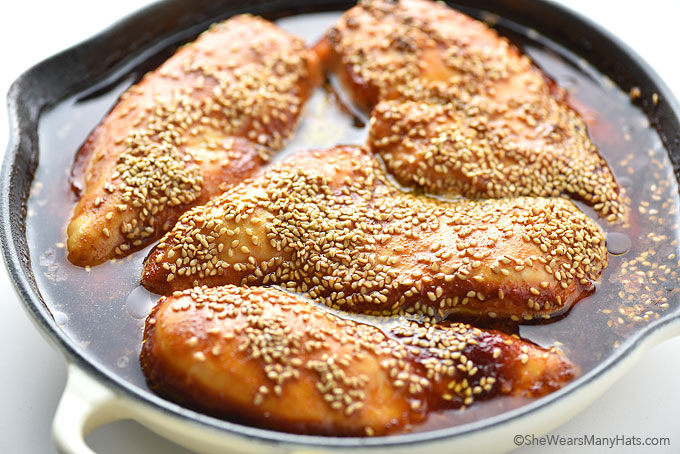 It doesn't get much easier than that and the sweet and spicy sauce is such a nice compliment for the chicken. And don't toss that sauce! Use it to serve along with the chicken, with rice, and/or roasted veggies. A delicious ending, indeed.
Baked Sweet and Spicy Chicken Breasts Recipe
A sweet and spicy sauce, plus toasted sesame seeds are baked with chicken breast for an easy and delicious main dish perfect to serve with rice and/or vegetables.
Author: ©Amy Johnson | She Wears Many Hats
Recipe type: Main
Serves: 4
Ingredients
4 boneless, skinless chicken breasts*
¼ cup honey
¼ cup hot sauce/sriracha
⅓ cup soy sauce (or Tamari)
½ teaspoon ground ginger
1 teaspoon garlic powder (or 4 garlic cloves, minced)
1 tablespoon toasted sesame seeds
Instructions
Preheat oven to 350-degrees F.
Pat chicken breast dry with paper towels and arrange in a single layer in an oven-proof skillet or baking dish.
Whisk together honey, hot sauce, soy sauce, minced garlic, and ginger. Pour over chicken. Turn chicken as needed to fully coat in sauce. Sprinkle with sesame seeds.
Bake in 350-degree F oven until chicken is done,** about 25-30 minutes.
Notes
*For bone-in, cook at 400-degrees F for 30 minutes until done.

**Chicken breasts may also be butterflied, or sliced up then added to the sauce before cooking. Or substitute with chicken tenders. Adjust cook time accordingly.

The sauce is a nice amount of spicy, but if you'd like it hotter, add a bit more hot sauce at a time to desired taste while preparing the sauce.