Cafe Mocha Punch
Cafe Mocha Punch could possibly be the essential shower punch in my opinion. Why, you ask? The simple answer: chocolate + coffee + ice cream. And since a baby is on the way it's time to pull out the punch bowl!
My good friend, Aggie from Aggie's Kitchen, and her family are preparing for the arrival of a sweet little baby boy. Yay! Today a bunch of her friends are surprising Aggie and her family with a virtual baby shower to celebrate this special time from afar. And since Aggie is Italian through and through,it's an Italian-inspired shower menu perfect for any baby or other celebration. Be sure to check out the party menu (with links) below for an array of delicious party recipes!
Aggie was one of the first people I met after I started this site. She's a sweetheart and as genuine as they come. I only wish we were neighbors so I could pat her belly right now and read to the new one that will be here very soon.
For the virtual Italian-themed baby shower I immediately thought of Italian-inspired coffees, and of course, chocolate is required where ladies are gathered. So a mocha latte, or better yet, an affogato-esque punch, Cafe Mocha Punch was birthed. It's a recipe that I've been wanting to play with for a while after enjoying it a few times at different ladies get-togethers. This mocha version with a bit of cinnamon for a touch of coziness can be served just as easily as dessert too.
Cafe Mocha Punch can be made with or without caffeine (and with or without a splash of rum, Irish Cream, or other favorite liqueur). Caffeine-free and sans alcohol for the expecting mom is a must. The coffee base can be made ahead and refrigerated, the stir in the ice cream once ready to serve. It's so easy! And that always make for the perfect party food in my book.
Enjoy!
Cafe Mocha Punch
A super easy punch made with coffee (caffeine or decaffeinated) and ice cream.
Author: Amy Johnson | She Wears Many Hats
Recipe type: Beverage
Serves: 12
Ingredients
4 cups strong brewed coffee or espresso (caffeine or decaffeinated)
3 tablespoons cocoa powder (I used dark cocoa powder.)
½ teaspoon vanilla extract
¼ teaspoon ground cinnamon
1 cup milk
1½ quart vanilla ice cream
1 cup (or more!) whipped cream for topping
additional cocoa powder and/or cinnamon for garnish
Instructions
Make coffee base by whisking together hot coffee, cocoa powder, vanilla extract and cinnamon until combined. (If making ahead, cover and refrigerate until ready to serve.)
Combine coffee base, milk and ice cream in a large punch bowl or pitcher. Stir gently until ice cream melts.
Serve topped with a dollop of whipped cream, sprinkled with cinnamon and/or cocoa powder.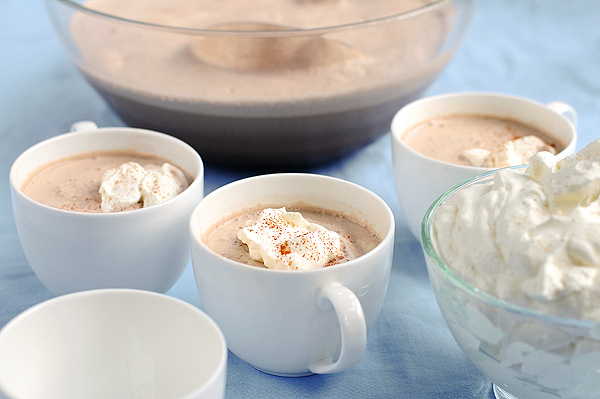 Much love to Aggie and her family! Join us as we celebrate with her by visiting these other sites for the rest of the tasty Italian themed dishes:
Appetizers
Sundried Tomato Hummus from Robyn of Add a Pinch
Melon & Prosicutto Balls from Paula of bell'alimento
Bruschetta from Sheila of Eat2gather
Jalapeno Poppers from Ali of Gimme Some Oven
Grilled Naan White Pizza Bites from Jamie of Mom's Cooking Club
Watermelon Feta Bites with Basil Olive Oil from Sandy of Reluctant Entertainer
Pesto Caprese Fried Wontons from Julie of The Little Kitchen
Blue Cheese Wedge Salad Crostini from Cheryl of TidyMom
Drinks
Toasted Coconut Milkshakes from Bev of Bev Cooks
Lemon Cream Soda from Angie of Eclectic Recipes
Peach Sorbet Bellini and Spritzers from Shaina of Food for My Family
Non Alcoholic Berry Spritzer from Lisa of Jersey Girl Cooks
Virgin Peach & Raspberry Bellinis from Milisa of Miss in the Kitchen
Italian Basil Sparkling Lemonade from Marly of Namely Marly
Italian Sodas from Laura of Real Mom Kitchen
Cafe Mocha Punch / or Iced Cafe Mocha you're already here!
Salads
Italian Chopped Salad in a Jar {with Creamy Caesar Dressing} from Brenda of a farmgirl's dabbles
Caprese Salad with Mozzarella Crisps from Christine of Cook the Story
Pesto Pasta Stuffed Tomatoes from Suzanne of Kokocooks
Grilled Romaine Caesar Salad from Liz of The Lemon Bowl
Herbed Israeli Couscous Salad with Tomato and Mozzarella from Rachel of Rachel Cooks
Chickpea, Avocado, & Feta Salad from Maria of Two Peas and Their Pod
Lentil and Chickpea Layered Salad from Lisa of With Style & Grace
Entrees
Chicken Cacciatore from Meagan of A Zesty Bite
Zucchini, Bell Pepper & Edamame Stir-Fry from Cassie of Bake Your Day
Potato-Crusted Vegetarian Quiche with Zucchini, Tomatoes & Feta from Dara of Cookin' Canuck
"Straw & Hay" Tagliatelle in Cream Sauce from Flavia of Flavia's Flavors
Grilled Italian Chicken with Veggie & Bow Tie Pasta from Katie of Katie's Cucina
Grilled Naan Pizza with Summer Veggies & Turkey Sausage from Kelley of Mountain Mama Cooks
Smashed Chickpea and Avocado Panini from Kathy of Panini Happy
Desserts
Fresh Blueberry Shortbread with Lemon Cream Frosting from Sommer of A Spicy Perspective
Crostata di Mango from Lora of Cake Duchess
Italian Ice from Kristen of Dine & Dish
Roasted Banana and Nutella S'mores Bruschetta from Jenny of Picky Palate
Italian Cream Cake from Deborah of Taste and Tell
Panna cotta from Leslie of The hungry housewife
Fortune Cookies from Shari of Tickled Red
Baby Vanilla Bean Scones a la Starbucks from Tara of Unsophisticook