Easy Strawberry Salsa Recipe
This super easy Strawberry Salsa Recipe is perfect as an appetizer, snack, or served as a dessert topping.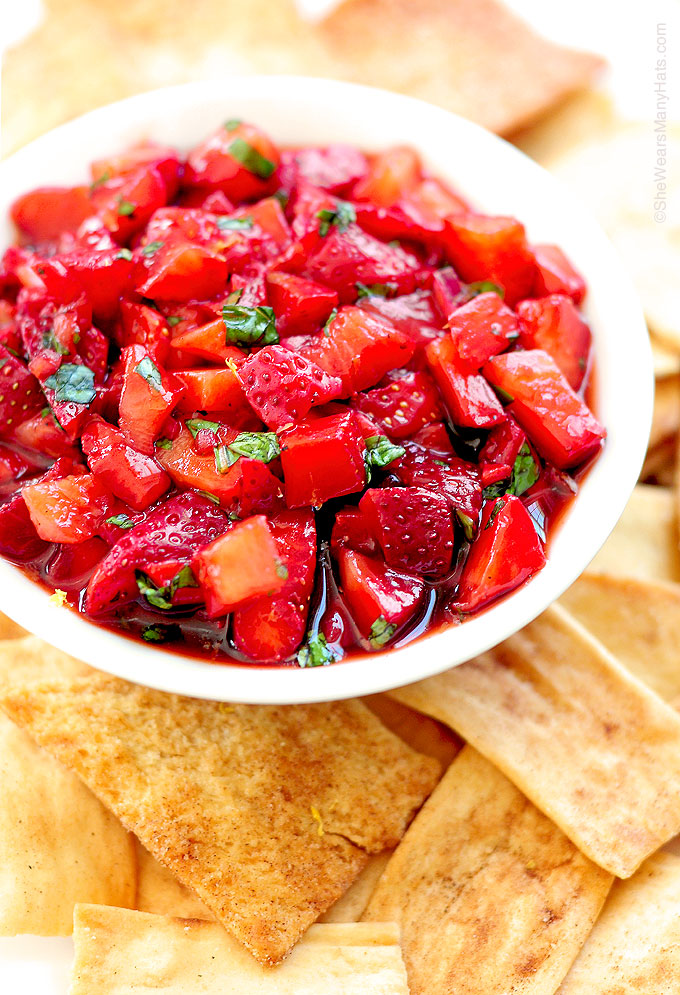 Fresh strawberries always make me think of my niece, Elizabeth, otherwise known as Lizzie. When she was little I remember all of us going strawberry picking, and Lizzie ate more than she picked. Her fingers, face, and mouth were stained strawberry red, and of course, down the front of her shirt. Lizzie had strawberry blonde hair way back then and she looked just like a little Strawberry Shortcake doll! Honestly, we probably should have just weighed her before picking and than again after before paying.
Strawberry picking is always a fun thing to do in spring when they're in season. But without our strawberry monster of a niece at our side, most of the time we pick more than we can use! Thankfully, there's no shortage of creative ways to use strawberries, like this easy Strawberry Salsa recipe. It's super quick to prepare and made with basic ingredients.
Chopped strawberries, balsamic vinegar, honey, fresh basil and lemon zest mingle all together to create a perfect salsa that just screams summertime. This sweet and tangy salsa is great served with tortilla chips, toast squares, or my favorite, Cinnamon Sugar Pita Chips, as an appetizer, or the perfect poolside snack. Or serve it over pound cake with a dollop of whipped cream for an easy dessert. Lizzie would be proud.
A few recipe notes:
As with most salsas, this one gets even better if you let the ingredients chill and get to know each other for a day or two, which makes it an easy dish to prepare ahead for entertaining. You gotta love that.
Have new neighbors moving in? Make a batch of Strawberry Salsa, delivered in a mason jar, tied up nicely with a red gingham ribbon, along with a bag of pita chips and a "Welcome to the neighborhood" note. Talk about a happy (and pretty healthy) welcome!
If fresh strawberries are not available, use whole frozen ones, thawed, and drained. The salsa will not be as chunky, but it will still taste as wonderful.
Enjoy! And if you get the chance this year to go picking, have a lovely time!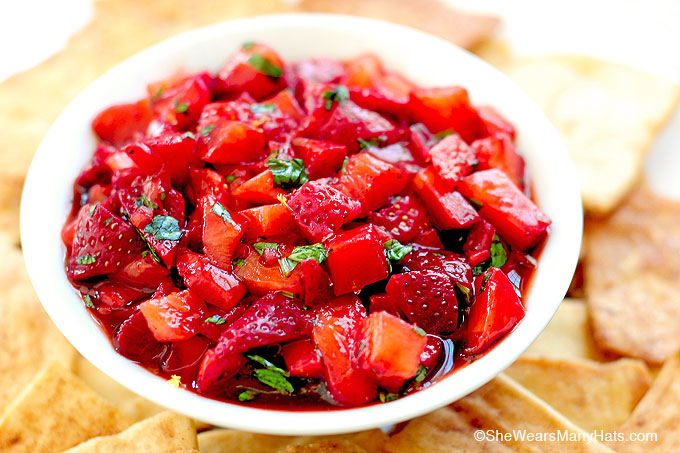 Easy Strawberry Salsa Recipe
A super easy salsa perfect for an appetizer, snack, or served as a dessert topping.
Author: ©Amy Johnson | She Wears Many Hats
Recipe type: Appetizer
Ingredients
½ ounce balsamic vinegar
½ ounce honey
¼ teaspoon kosher salt
⅛ teaspoon ground black pepper
1 pound strawberries (diced is about 2 cups)
1 tablespoon finely chopped fresh basil
zest of 1 lemon (about 1 teaspoon)
Instructions
Whisk together vinegar, honey, salt and pepper until combined well.
Mix vinegar/honey mixture with remaining ingredients until incorporated.
Refrigerate covered until ready to serve.
Serve with pita chips, corn chips, or as a dessert topping. (Cinnamon pita chips are wonderful with this salsa!)