Lately I've been experimenting with replacing cane sugar with honey in many recipes, including baked goods. Honey is great for helping create moist goodies, but when baking with honey, it's not just a matter of replacing the same amount of sugar with equal amounts of honey. Other adjustments have to be made, proportions adjusted, temperatures slightly reduced. It's very important to pay attention to the details, and not to lose track of things, and say, double the baking powder. That's always a bad thing. Not that I would know anything about that.
Honestly, for me baking isn't something I just up and do. It takes thought and clearing the kitchen of all distractions, especially people. If others are around while I'm baking, I'll get to talking, totally forget what I've measured, and may skip some ingredients altogether.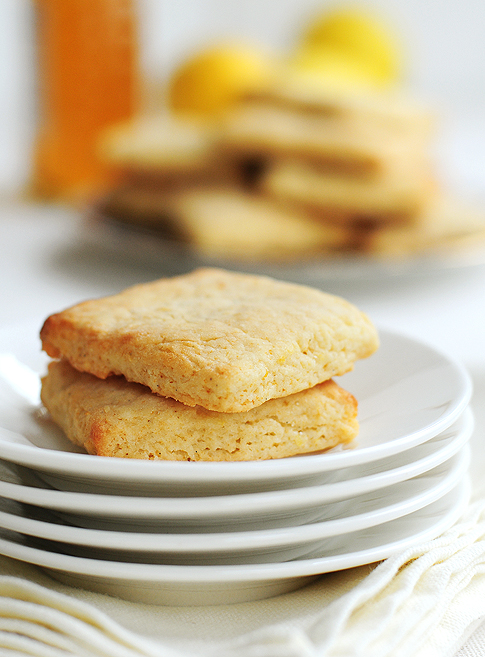 With that said, these citrus tea biscuits (or scones) were made four times, with a little tweaking each time (and a few goof ups), resulting in a moist little biscuit with hints of citrus.  I've used both lemon or lime, but any citrus would be nice. Lime is my favorite.
Layering the tea biscuits with berries, and Honeyed Whipped Cream, topped with an extra drizzle of honey, makes for the perfect shortcake. And with strawberry season early in these parts this year, we'll be enjoying shortcakes, and other fresh strawberry goodies a bunch over the next weeks. A tasty benefit of an early spring, I'd say.
Enjoy!

Citrus Tea Biscuits
I've used both lemon or lime to make these, but any citrus would be nice. Lime is my favorite!
Author:
Amy Johnson | She Wears Many Hats
Serves:
Makes 24 2\" square biscuits.
Ingredients
¼ cup cream
¼ cup fresh citrus juice
¼ cup honey
½ teaspoon vanilla bean paste (optional)
1 egg
2 cups all-purpose flour, + 1 tablespoon for flouring surface
3 teaspoons of citrus zest
1 tablespoons baking powder
¼ teaspoon salt
1 stick cold butter, diced
Instructions
Preheat oven to 375°F and line a baking sheet with parchment paper.
Beat together cream, juice, honey, vanilla, and egg. Set aside.
In a large bowl whisk together 2 cups flour, citrus zest, baking powder, and salt. Cut in cold butter until coarse meal. Do not overwork.
Add wet mixture to dry, and stir gently to combine. Form dough ball. Do not overwork dough.
Dust parchment lined baking sheet lightly with up to 1 tablespoon flour. Transfer dough to lined baking sheet and gently form a square or rectangle. Cut into squares of desired size and separate on baking sheet about 1-2" apart.
Bake for 12-14 minutes, or until tops are golden. Check with toothpick for doneness.
Let cool on baking sheet for 1 minute, then serve right away, or transfer to cooling rack before storing.