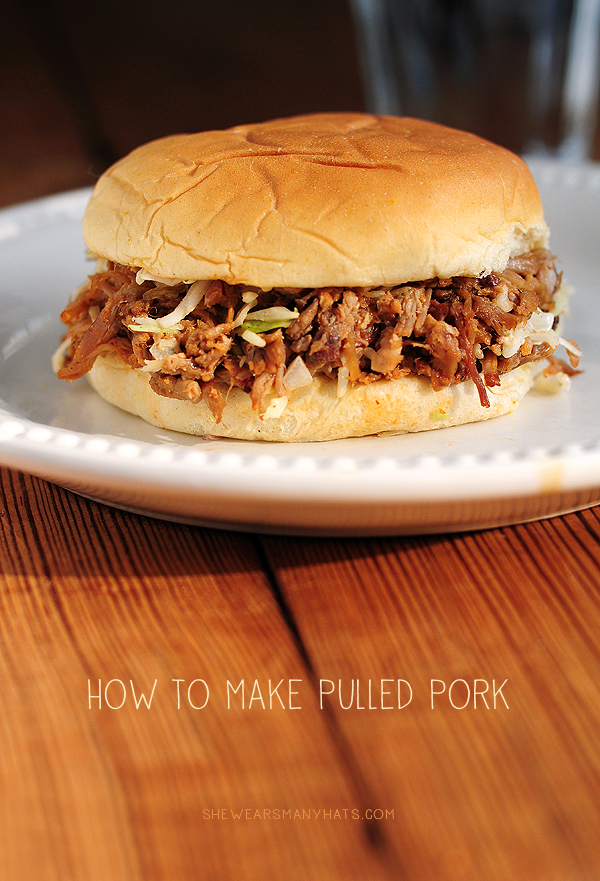 Today my husband, Randy, our resident grill master, is sharing his process for How to Make Pulled Pork (or chopped). I've been wanting him to write this for a while, but sometimes explaining something in writing isn't as easy as it sounds, and can make it look harder than it seems. That certainly goes for this recipe. Don't be scared by all the words. If you have the right equipment, and the time, it's really very easy.
Take it away, Randy!
I grew up eating Eastern North Carolina BBQ, pulled pork with vinegar based sauce. I'm a big fan. Believe me, I've sampled more than my share of BBQ from a lot of different places across the U.S, but the magic they make at Wilbur's, Parker's, B's, and the like, is the real deal in my book. Given that Wilbur's is about 12 hours round trip, I've spent a bit of time trying to replicate it at home. Mind you, I'm not ready for any competitions, but it's pretty dadgum tasty, if you ask me. And it sure beats that long drive.
We don't rub the roast first with Uncle Tommy's secret moon dust. We don't add soaked hickory wood for smoke. We don't use salt. And our sauce? It only has 3 ingredients. Guilty. But I think pork shoulder is a rich, flavorful cut of meat, and deserves to be the star of the show. When cooked correctly, it will be. For the simple sauce, a combination of vinegar, a little heat, and some sweet does the trick, in my humble opinion.
Serve on a bun with some crunchy cole slaw, or go bunless. It's all good.
Even though pork butt takes a long time to cook, it's simple to do and inexpensive, so give it a try when you have some extra time one weekend. It's a great way to serve a large crowd.
Enjoy!
A few tips:
- You'll need some kind of grill or oven that can maintain a temperature between 220-250°F for 12-18 hours.
- We use a Big Green Egg. It was a Father's day/birthday gift last year and it has been used more in the last year than any other grill we have owned. We cook everything from whole roasts, wings, to pizza on it. It's been worth the investment for us in the long run.
- A dependable meat thermometer is a must. Get you one.
- If you're new to pork roasts it can be confusing. A pork butt is not from the hind end of the hog, but from the shoulder (front leg) of the hog. When a shoulder is cut, the top portion becomes a pork butt, sometimes called a Boston Butt. What is left is referred to as a picnic shoulder. The pork butt is preferred because of less bone, but the picnic section is equally satisfying, you'll just pay for more bone. These are all uncured cuts of pork. When shopping, look for pork butt, Boston butt, or picnic shoulder. And of course, you could roast a whole pork shoulder (usually find with skin on) if you need to feed a small army.