Finding new and appealing side dishes that are easy enough to throw together for a weeknight meal has become a challenge for me. Quite honestly, as of late, baked sweet potato fries have graced our table a bit more than I'd like to admit. I can easily find myself in a rut making the same thing over and over again, so it being the first week of a new year, I'd thought I try something different for a change.
This recipe for Grilled Potato and Cannellini Bean Salad from Bush's Beans looked simple enough, with no fussy or complicated ingredients. I don't recall ever grilling potatoes, but was happy to find that I'm a big fan. I think grilling and roasting always bring out the best flavor in foods.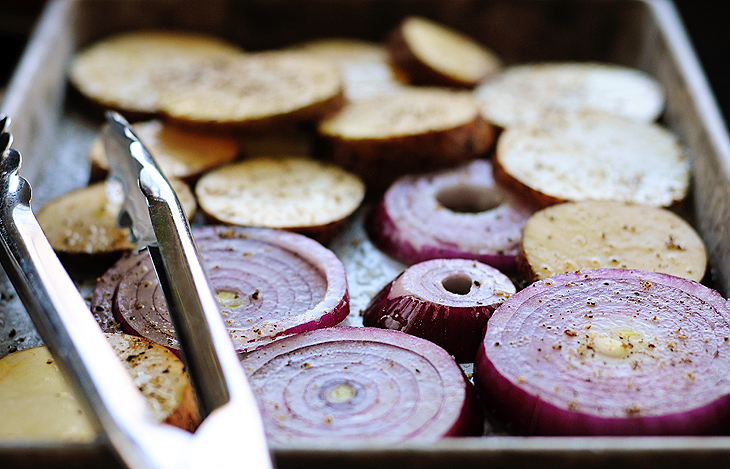 Grilled potatoes and onions pair perfectly with creamy Bush's cannellini beans, and a simple mustard based vinaigrette. I was surprised at the flavor packed in such a simple dish. And easy too!  We enjoyed it with steak, but it would be a nice compliment to chicken, fish, or even served with a green salad as a light lunch. And if you don't have access to a grill, don't let that keep you from trying this flavorful side dish. Instead, to cook the potatoes and onions you can use a grill pan stove top, a panini grill, or roast them in an oven.
What a great example this Grilled Potato and Cannellini Bean Salad recipe is of how making something new doesn't have to be complicated. To discover more new things to try from Bush's Beans, be sure to visit their collection of recipes to compliment any meal, and become part of the Bush's Beans Facebook family too!
Go try something new for the new year! I'm glad I did. It was a tasty change of pace.
Happy Cooking!
(I am fortunate to have an ongoing relationship with the nice folks from Bush's Beans. This post is sponsored by Bush's Beans, but as always, all opinions are my own.)