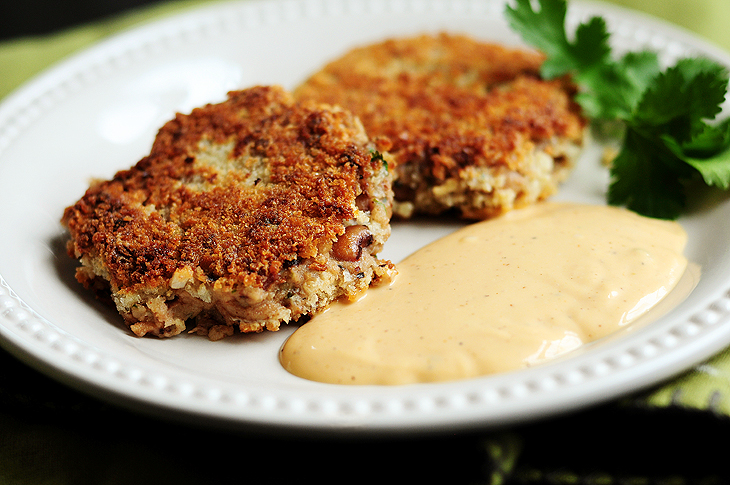 Me and black-eyed peas, we go way back – truly one of my comfort foods. And since a recent trip to Grits and Groceries, I've had Black-Eyed Pea Cakes on the brain. They were a yummy appetizer we enjoyed there.
I purchased the Grits and Groceries cookbook, as well as a calendar packed with more recipes, but no Black-Eyed Pea Cake recipes to be found. After a quick search online, tons of recipes for the southern delicacy popped up. but I didn't have all the ingredients for any of the ones that looked good to me, especially the one Ezra Pound Cake adapted from Martha Hall Foose's "Screen Doors and Sweet Tea." So I did what any southern-black-eyed-pea lovin-girl would do, I improvised, using what I had on hand. I was quite happy with the results. Quite happy indeed. And when served with "Comeback Sauce" they are out of this world.
Let me say, with every ounce of  my being, this is good stuff. And that ain't no lie.
Ain't no lie.
For the cakes you'll need some of these…
…onion, garlic, cilantro, basil, cumin, cayenne, and salt…
…and one fried slice of bacon (but why not go ahead and cook a few more pieces while you're at it)…
…as well as olive oil, heavy cream, flour, an egg, half and half, and bread crumbs.
The comeback sauce was also improvised. Besides, you should make your own comeback sauce 'cause everyone likes to come back for different things. Below is a rough recipe for what we did. It's easy enough to adjust to your tastes as you mix it up.
Begin by warming the black-eyed peas (drain first), while you prep the other ingredients. I sauteed the onion and garlic together in a little olive oil until softened. In a food processor, pulse about half of the black-eyed peas, bacon, onion, garlic, cilantro, basil, cumin, cayenne, and salt a few times until blended. But not too much! It doesn't need to be totally smooth.
Transfer mixture to a bowl and stir in the remaining black-eyed peas and heavy cream. Chill mixture until cool – about an hour or so. This is an essential step. When it cools, the mixture stiffens so cakes can be formed, otherwise you'll have floppy cakes that will fall apart when be battered. And you don't want floppy cakes. Not that I would know anything about that…just sayin'.
That's another thing I love about this recipe, you can make the mixture a couple of days ahead and refrigerate.
After the mixture has cooled, gently form the cakes and set aside. We made ours about 2  1/2-3″ round and 3/4″ thick, but you can make them smaller if you'd like. Just be sure to adjust cooking time. I don't know if I'd go much bigger than 3″ round.
Prepare 3 separate bowls for battering. Flour goes in the first one. Then beat an egg and the half and half together in the second one. And the bread crumbs go in the third one.
Batter the cakes by coating first with flour, then the egg mixture and finish with the bread crumbs. Okay, I have freaky man hands, but this is actually a man's hand.
My husband is a fabulous batterererer. (No, he doesn't beat me people.) Be careful to keep the shape of the cake intact while battering.
Set aside after coated.
Line a plate or cooling rack with paper towels ready for cakes when cooked. Prepare the skillet by heating 3-4 tablespoons of olive oil over medium heat. Fry cakes in small batches, cooking approximately 2-3 minutes on each side until golden brown.
Be sure to watch the oil for overheating, and, if needed, add additional oil or start with new oil if it gets too dark.
Serve with a heaping serving of comeback sauce and be ready to hollah!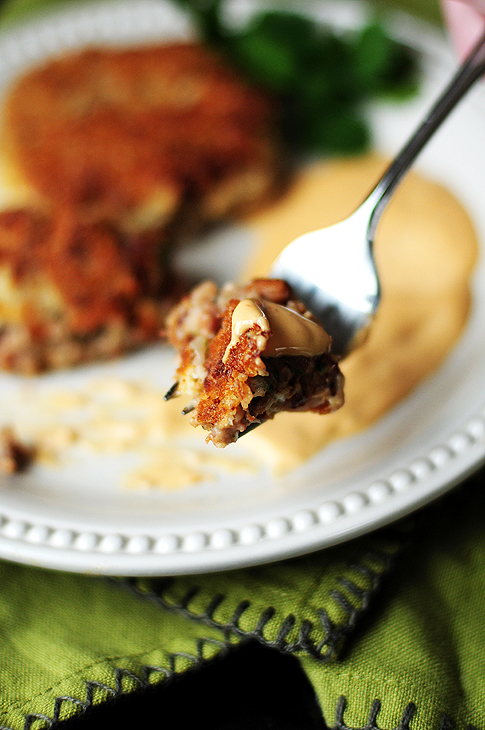 Enjoy!