Savory Roasted Chicken Potatoes and Vegetables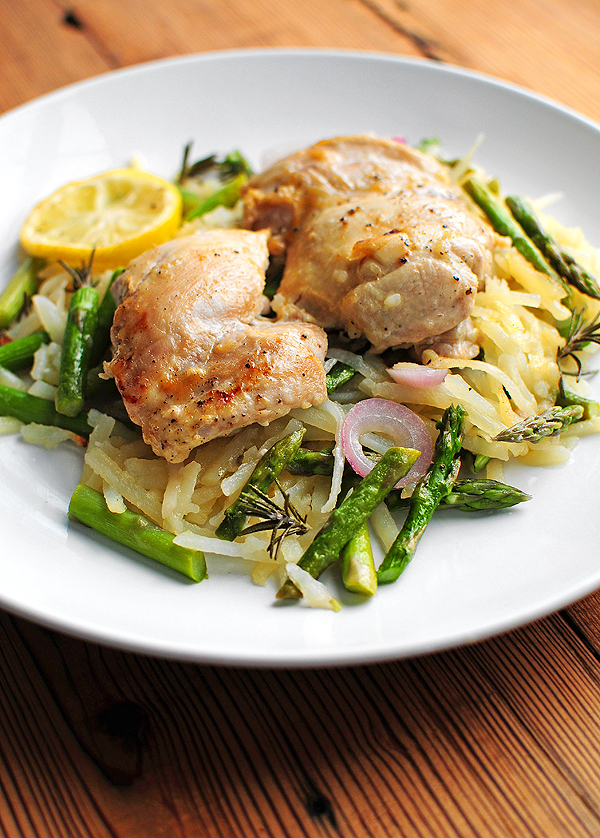 Homework, laundry, ballgames, music lessons, and then dinner too? With so many things to juggle on any given weeknight, washing the dishes isn't one that I want to spend a lot of time doing. So preparing quick meals that require the fewest dirty pans is always a winner in my book. That's why I a one pan recipe is always appealing.
I decided to combine a family favorite, chicken thighs, with potatoes, red onion, and fresh asparagus. White wine, lemon, and rosemary were added to tie it all together to create Savory Roasted Chicken, Potatoes and Vegetables, a one-pan wonder that can be made in 30 minutes.
Boy, did our home smell wonderful while it cooked. Plus, I was able to enjoy a quick clean up afterwards and get on with more important things in our life.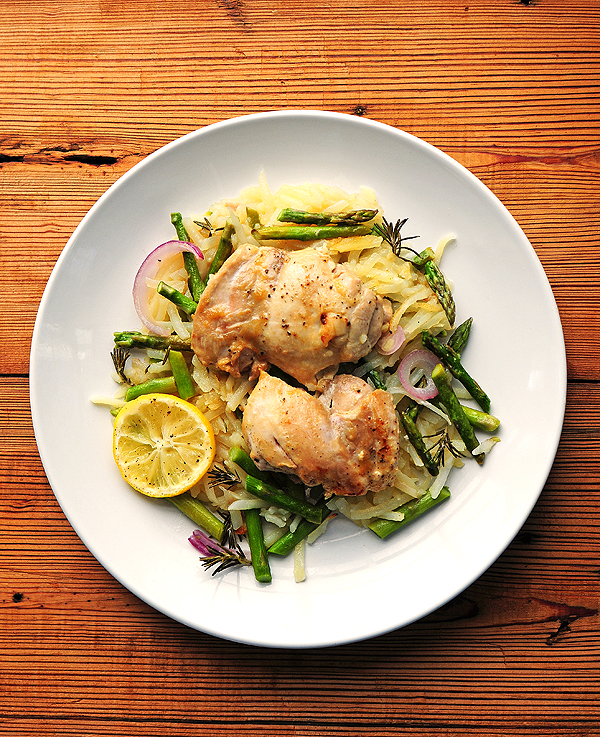 Enjoy!

Savory Roasted Chicken, Potatoes and Vegetables
A simple one pan recipe perfect for a weeknight meal.
Author: Amy Johnson | She Wears Many Hats
Ingredients
3 squares Savory Butter & Olive Oil Sauté Express® Sauté Starter (or substitute a combination of 3 tablespoons butter and 2 tablespoons olive oil)
2 pounds boneless, skinless chicken thighs (other chicken cuts may be substituted, adjust cook times accordingly)
2 ounces, fluid white wine (cooking wine may be substituted)
20 ounces shredded potato hash browns (you can make your own or find these pre-prepared in the refrigerated (NOT freezer) department, usually near where you'll find the Sauté Express® Sauté Starter too!)
pinches salt and pepper
1 bunch fresh asparagus, trimmed (about 12 ounces)
1 medium red onion, sliced
½ lemon, sliced
2 sprigs fresh rosemary, stems removed
Instructions
Preheat oven to 400°F.
Melt 3 Savory Butter & Olive Oil Sauté Express® Sauté Starter squares in an oven-safe skillet or pan (with at least a 3-quart capacity) over medium heat until it begins to bubble.
Make sure to first flatten the thighs by pounding with a meat mallet for even cooking. Cook chicken thighs 2 minutes each side. Remove, set aside and cover.
Add white wine and whisk for 30 seconds over medium heat.
Reduce heat to low, add shredded potatoes, a few pinches of salt and pepper, and combine.
Spread asparagus, onion, lemon, and rosemary across potatoes, tuck chicken thighs amongst it all and bake uncovered in the oven for 20 minutes, or until chicken is done.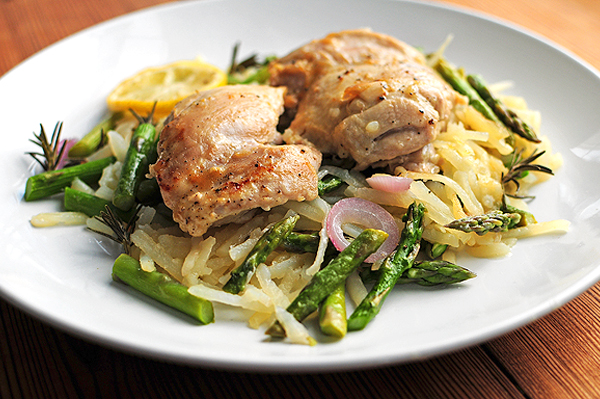 Disclosure: I've partnered with Land O'Lakes for an exclusive endorsement of Sauté Express® Sauté Starter. This blog post is sponsored by Land O'Lakes. All opinions are my own.