Beef Stew with Roasted Winter Vegetables
This simple Beef Stew with Roasted Winter Vegetables makes for the perfect comfort food on a chilly winter's night.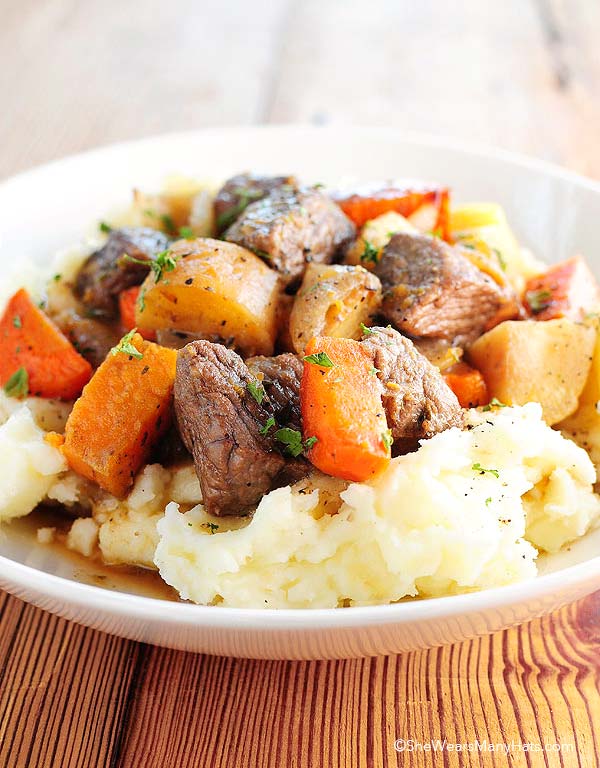 It's winter and that means comfort food around our home. Nights come earlier, the cozy blankets are used more often, and stews and soups are a more frequent. And this hearty Beef Stew with Roasted Winter Vegetables is a great meal for weeknights. And when more time is available, with a few little changes it can be popped in the oven for a few hours for a fantastic pot roast too. I've already made it a couple of times already in the past month with smiling faces all around.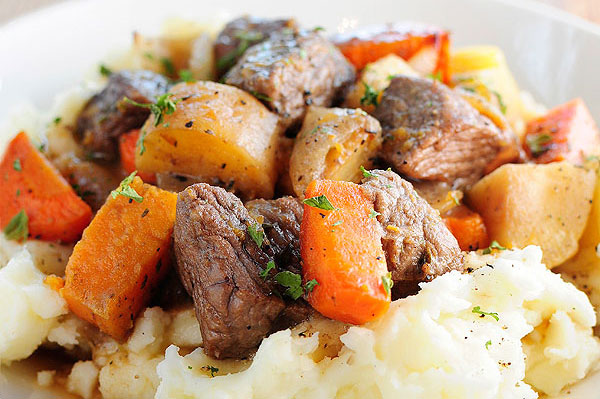 Enjoy!

Beef Stew with Roasted Winter Vegetables
A hearty bowl of comfort.
Author: Amy Johnson | She Wears Many Hats
Recipe type: Main
Serves: 6
Ingredients
1 cup cubed butternut squash
1 cup cubed carrots
1 cup cubed parsnips
1 cup cubed sweet potatoes
1 cup cubed onion
2 tablespoons olive oil, divided
1½ pounds boneless beef sirloin steak, cut into 1-inch cubes
¾ cup Kitchen Basics® Original Chicken Stock
3 McCormick® Bay Leaves
½ teaspoon McCormick® Thyme Leaves
½ teaspoon McCormick® Black Pepper, Coarse Ground
½ teaspoon salt
¼ cup dry red wine
Instructions
Preheat oven to 425°F. Toss cubed vegetables and onion with 1 tablespoon of the oil. Arrange in single layer on large baking sheet. Roast 20 minutes or until vegetables are golden brown.
Meanwhile, heat remaining 1 tablespoon oil in large skillet on medium-high heat. Brown beef in batches. Return all beef to skillet. Add roasted vegetables, stock, wine, salt, pepper, thyme and bay leaves.
Bring to boil. Reduce heat to low; simmer 10 minutes or until sauce is slightly thickened. Remove bay leaves before serving.