Southwestern Black Bean Pasta Salad Recipe
Try this flavor packed easy Southwestern Black Bean Pasta Salad Recipe at your next cookout. It's the perfect side dish or a great meatless option for anyone eating vegetarian. And easy to make too!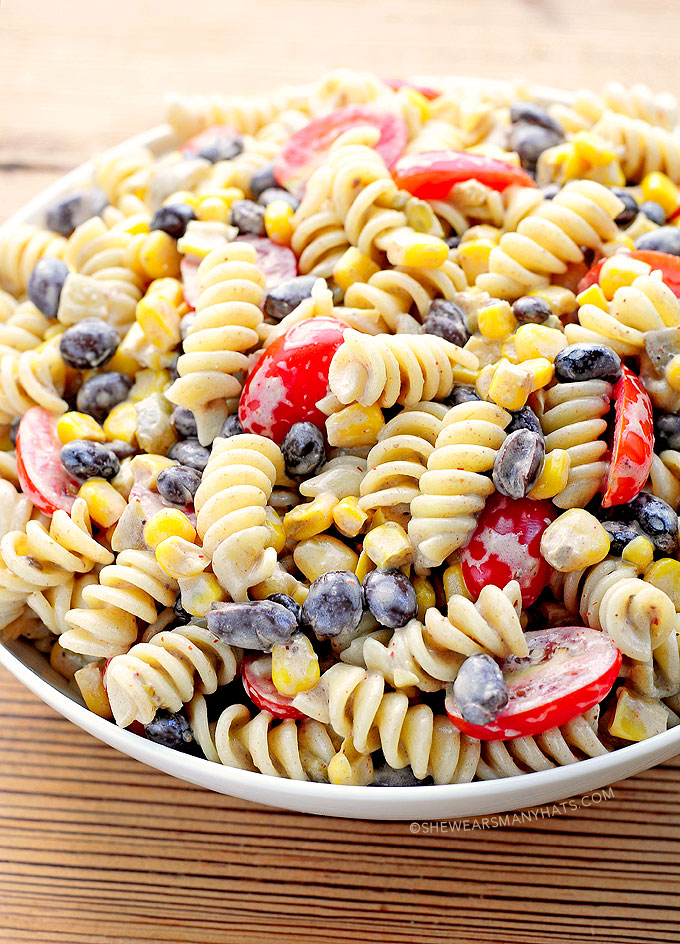 Pasta Salad was one of the first things I ever learned how to cook. I think the main reason that I attempted pasta salad so early on is because it is super easy. Add your favorite vegetables, fruits, seasonings , as well as meats (if desired) to cooked pasta, toss it all together, chill for a while and voila! You have the perfect side or main dish for any menu all year-round. Since it can be made ahead and chilled, a tasty Pasta Salad is great for entertaining, plus I think it gets even better when it's all left to mingle for a while.
Pasta Salad is still as easy as I remember, plus, now there are so many inspiring flavor combinations out there to try, like this flavor packed Southwestern Black Bean Pasta Salad recipe. It's a terrific pasta salad to use for either a side or a main entree. It has all the pieces and parts for a hearty, satisfying dish with a bunch of flavor. It's a great meatless option too. Make a large batch early in the week and enjoy it all week long. And because this pasta salad recipe is easy to make and easy to pack to take along, it's at the top of my list for for a picnic or outing menu. It's certainly a picnic and cookout worthy dish, that's for sure.
Try this Southwestern Black Bean Pasta Salad as part of this complete tasty menu lineup:
Southwestern Grilled Chicken Recipe with Lime Butter
Uncle Bobby's Banana Pudding Recipe
Enjoy!
Southwestern Black Bean Pasta Salad Recipe
A tasty meatless pasta salad great for any menu spread.
Author: ©Amy Johnson | She Wears Many Hats
Serves: 10
Ingredients
½ cup mayonnaise
2 tablespoons lime juice
1½ teaspoons McCormick® Gourmet Collection Chili Powder
1 teaspoon McCormick® Gourmet Collection Cumin, Ground
½ teaspoon salt
8 ounces rotini pasta, uncooked
1 can (about 15¼ ounces) whole kernel corn, drained
1 can (about 15 ounces) black beans, drained and rinsed
1 pint grape or cherry tomatoes, halved
1 small can (about 4½ ounces) chopped green chiles, drained
Instructions
Cook pasta according to package instructions. Drain; set aside.
In a large bowl, whisk together mayonnaise, lime juice, chili powder, cumin and salt.
Add cooked pasta and remaining ingredients; toss to combine and coat pasta.
Refrigerate covered until ready to serve.