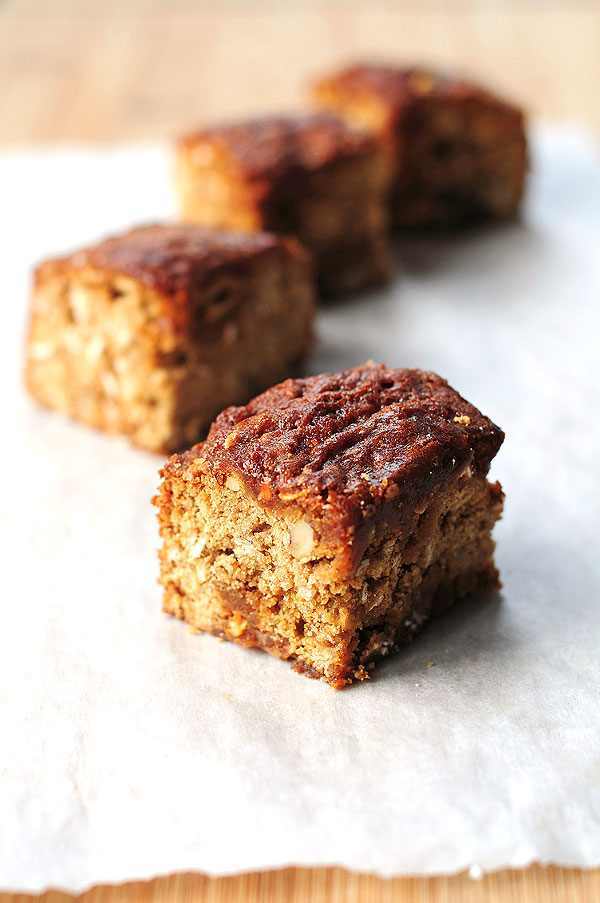 Once in a while a great mistake happens. I think the mistakes that happen in the kitchen are the very best. Don't you? Take this Oatmeal Walnut Caramel Coffee Cake Recipe, for example. This recipe began late one night as an attempt to satisfy a craving for caramel blondies. It was too late and I was way beyond tired to be baking. Plus I was winging it while watching TV. Not the best combination when baking. But there was a craving, man. I had to oblige, or at least give it a good old try.
In the end, I'm glad I bumbled my way through. Although the caramel blondies never appeared that evening, what resulted was a very satisfying coffee cake, crumb cake, breakfast or snack cake. Sometimes I never know how to define certain cakes, but whatever you classify it as, when is cake ever a mistake? And for a mistake, it sure did disappear quick. Yes it did.
Not too sweet, nutty, and sneaky addicting, this Oatmeal Walnut Caramel Coffee Cake Recipe is the perfect accompaniment to coffee or tea, and makes a great little afternoon snack. I'll definitely be making this one again the next time we serve brunch for a group, or have guests for coffee late one night, as it can easily be made ahead and rewarmed a bit. If desired, top with additional warmed salted caramel sauce, and a dusting of cinnamon.
Enjoy!
A few notes:
The salted caramel sauce used in the recipe below is homemade, but easily substitute a good pre-packaged caramel sauce. There are some nice ones available.
While the recipe below calls for walnuts or pecans, I think just about any toasted nut could be substituted very nicely in this cake. Can you imagine toasted almonds? Oh my …
If concerned with nut allergies, substitute them with the same amount of dried cherries, raisins, or dried cranberries.