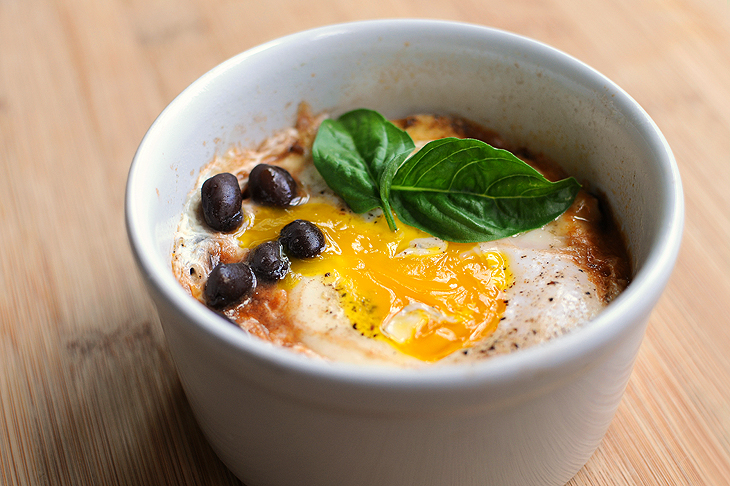 I don't know about you, but this time of the year is quite hectic for us. Packed with end of school programs, studying for exams, spring cleaning inside and out, getting the garden going, switching out winter for summer clothes, planning summer break activities, and much more, we get out of whack pretty much the whole month of May every year. Healthy meals can easily be pushed to the wayside, but with a handful of staple items for the kitchen, I can whip up a few simple meals on the fly.
We always keep a stockpile of beans on hand, plus eggs, and a basic selection of cheeses. Combine those ingredients with either salsa or marinara sauce for a flavor packed meal of for what I like to call, for lack of a better term, Bean and Cheese Baked Eggs. But you can call it what you want. I've made different versions of this same dish, easily switching out ingredients. Create a huevos rancheros of sorts by using black beans, monterey jack cheese, and salsa with an egg. Or go the Italian route and substitute out marinara or pizza sauce for the salsa and mozzarella for the monterey. Get creative! Have fun creating your own flavors combinations.
Today I made one in minutes using cannellinis, some leftover pizza sauce, cheddar cheese, topped with an egg. My daughter was drawn in by the aroma and wanted to know what I was cooking. I told her, thinking she'd turn her nose up, but she was still interested in trying it. She said it tasted like lasagna. Lasagna? Really? She then wanted to know how to make it. Honestly, I was quite surprised with her response. I'll certainly be making these (or get her to) more often for dinner with a simple side salad. Just think, this is something that she'll be able to make for herself when she heads to college in a few years. And it's pretty healthy too!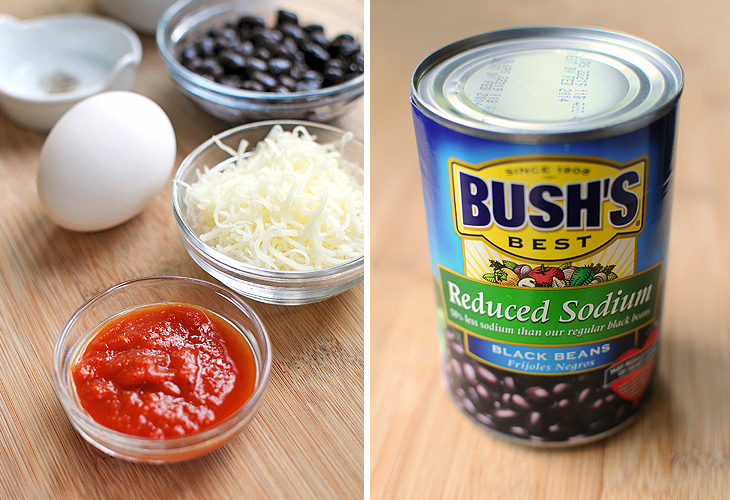 Black beans are shown here, but as mentioned before, any bean could work. Cannellini or Great Northern Beans would make a perfect choice for an italian twist. I'm a Bush's Beans kinda gal. They've never disappointed. Which is important when you're in a crunch. You need to be able to depend on quality ingredients.
Let me show you how simple it is. All ingredients are layered in a ramekin that's been coated with cooking spray.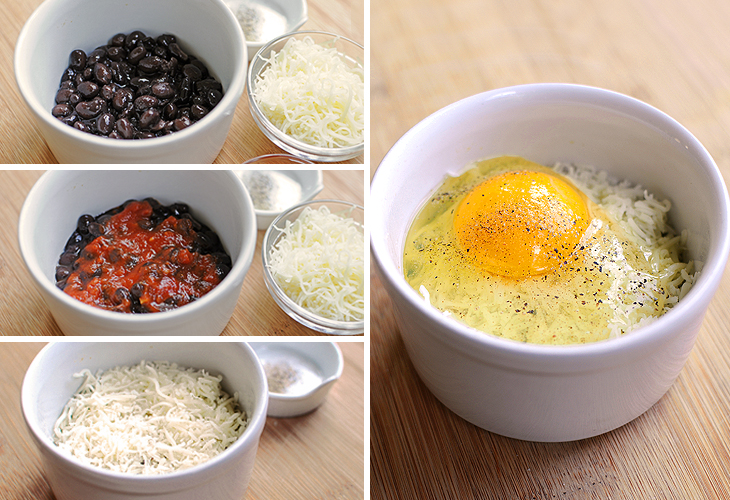 Then microwave or bake in the oven. Cooking times will vary depending on your microwave or oven, and the size ramekin you use. For single servings I choose the microwave route, but for several at a time, the oven may work better. The recipe below covers tips for both. Determining what the cooking time is for you will be the only thing that comes close to being difficult with this dish. But once you know the cooking time for your kitchen, you know. You know?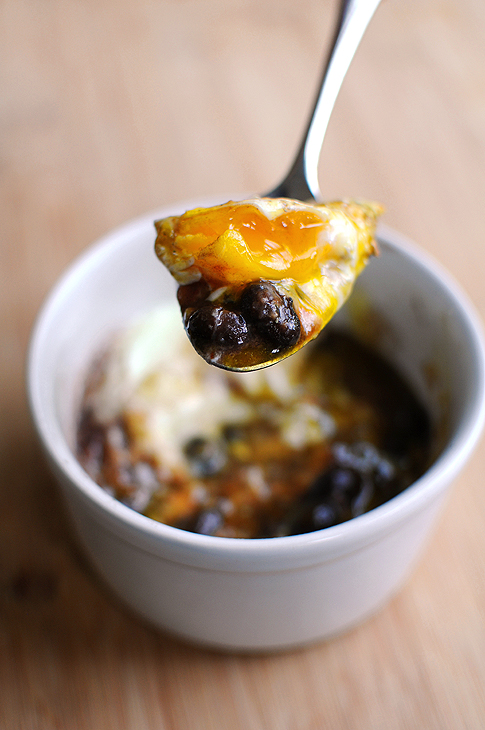 Garnish with your favorite fresh or dried herbs, and enjoy! Nice and easy. Perfect for our May, and the rest of year too.
(Disclosure: I'm happy to have an ongoing relationship with Bush's Beans. I have received compensation for this post, as well as product from them, but as always the opinions on this blog are my own. )