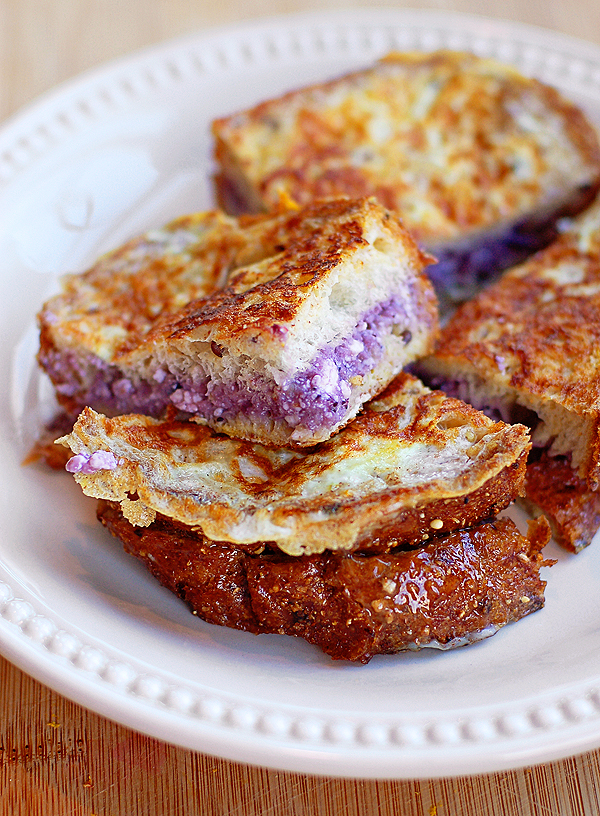 When I was in high school, French class was a favorite. You can imagine how French spoken with a Southern accent is like honey to the ear.
Someone's ear.
Somewhere.
At each year's end we would have a class party celebrating with French cuisine – each student preparing a dish to share. I don't recall what drove my compulsion for over-ambitiousness at such a young age, but, while others were bringing crepes and chocolate mousse, I decided upon Coq au Vin, AND French Onion Soup. The soup was a breeze, and the Coq au Vin, for a 15 year old's first attempt, was okay. Of course the complexity of the flavors was wasted on my classmates.
I should've made French Toast.
Vous vivez et vous apprenez.
(Yes, I looked that up. High school was a long time ago.)
I'm not really sure how French French Toast is, but it had been part of my repertoire for years at that age, along with banana boats, hobo packs, and anything you can cook on a tuna can stove – Girl Scouts rocked!
French Toast is simple breakfast fare, and, with a few additions and modifications, can easily be turned into an even more delightful start to a new day as stuffed French Toast. Stuffed French Toast sounds fancy, quite the contrary. There's really no stuffing involved – just some spreading. The ingredients are basic, and the technique, simple. In addition, everything can be prepped the night before so you're ready to go in the morning, even if you're not so bright eyed and bushy tailed.
You'll need: eggs, heavy cream (or half and half), orange zest, orange juice, cinnamon, nutmeg, vanilla, sugar, salt, bread of choice (something heavy duty), cream cheese, preserves or jam of choice and butter. Powdered sugar and syrup are optional for dusting and serving.
I used a blood red orange and blueberry preserves because that's what I had on hand. This is my favorite brand of blueberry preserves. All of their preserves are very tasty. I just like blueberry.
Certainly use whatever citrus you'd like and choose your favorite preserves or fresh fruit with a little sweetener added. And mascarpone or even cottage cheese could be substituted for the cream cheese if you'd prefer.
Also, I used a multi-grain bread from a local bakery but any bread you can cut thicker that will hold up to the dunkin' will do.
Begin with a shallow baking dish and add the eggs.
Then the cream.
Next, the orange zest and juice. I just love the color of blood orange. It's always so shockingly vibrant to me.
Finally add the cinnamon, nutmeg, vanilla, sugar and salt.
Whisk together lightly to combine.
In a separate bowl combine cream cheese and preserves.
Make 4 sandwiches using the cream cheese mixture.
Dip each sandwich in the egg mixture, carefully covering all sides completely. Place sandwiches on heated griddle or skillet that has been lightly buttered.
Cook 3-5 minutes per side, until golden brown.
Cut in quarters or halves and serve with a dusting of powdered sugar and/or syrup.
What a way to start the day – on the sweet side!
Enjoy!
Let me know if you try it and what combinations you come up with. I can't wait to try it with fresh strawberries during summer. Yum!