We're gamers… (and the Sharpie winner!)
Thank you for visiting. This giveaway has ended.
Saturday night I had the ultimate privilege of visiting with a few ladies from church during a back-to-school social. We pulled out a few games and that was the end of it. The gloves came off. And if we were not at church I believe we would've seen a cat fight before it was all over with.
Nah. I'm joking about that last part. It would've only been a little name callin.'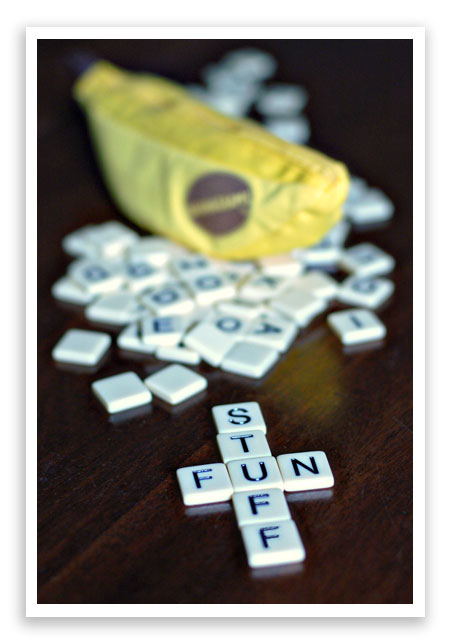 Anyway, this is one of the games we played. It's called Bananagram and is similar to Speed Scrabble or Take 2. Of course we made up our own rules and it worked just fine. Basically everyone takes a determined amount of tiles (that are turned face down in a center pile), turns over the tiles and goes to work to make a crossword or anagram with all of their tiles. Whoever uses all of their tiles first calls out for everyone to "Take 2" or "Split" (or whatever word you wanna call out – except the bad words… there ain't no sense in that) and the players choose 2 more tiles or whatever the group has decided on. You can use Scrabble pieces to play the game as well.
It's fun and hard to peel yourself away from. (Get it? Peel. For Bananagram? Yeah, I'm creative like that.)
The room was cleaned, broken down rearranged and we were still playing, focused like the gamers we are, as our children pined and whined. "Come on Mom," they moaned.
"Shush, it's only 11:45 p.m. Stop your bellyaching."
Congratulations! "The Provident Woman" is now a proud owner of a rainbow set of Sharpies! How cool is that?!? That was so much fun we may have to do it again later on. Stay tuned…