Magimix by Robot-Coupe Vision Toaster
Thank you for visiting. This giveaway has ended.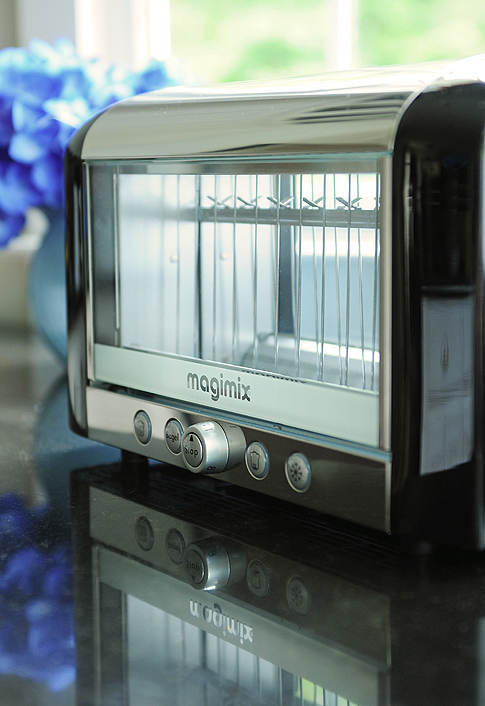 This giveaway is over.
Congratulations to comment #177, Dawn. I hope you enjoy making some excellent toast very soon! And many thanks to all who took the time to stop by and enter. Happy cooking!
________________________
I can't tell you how many times I've watched my kids or husband stand over our toaster, peering down into the dark crevice trying to see if their toast or waffle is just right. A watched toaster never toasts. Until now.
Check out this Vision Toaster from Magimix by Robot-Coupe in Jet Black. Handy dandy for the watchful toast master. Open for viewing from both sides, the days of burnt toast (unless that's how you prefer it), or re-toasting, after re-toasting are long gone with this sleek appliance. It seems so obvious, doesn't it? Why didn't I think of that?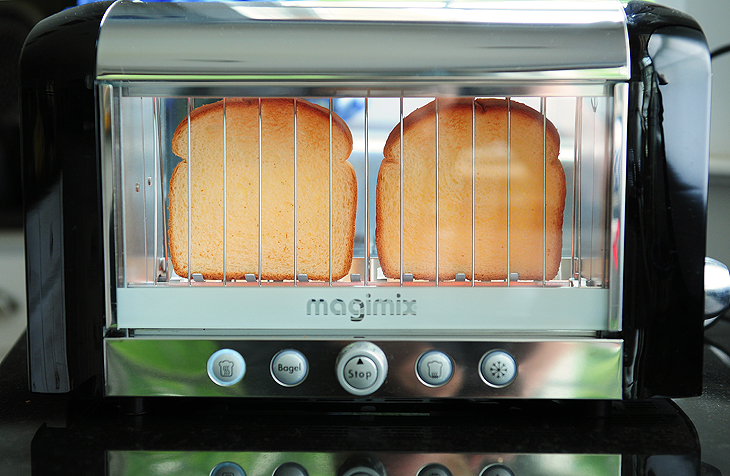 And the Magimix by Robot-Coupe Vision Toaster isn't just a novel idea that will bite the dust just when you get used to your toast just right. It's incredibly durable, and built to last for 30,000 uses. That's a lot of toast.
The Magimix by Robot-Coupe Vision Toaster is not only durable and cool, look at these other features:
Four pre-programmed heat settings include Toast, Defrost, Reheat and Bagel (one-side toasting).
Defrost function simultaneously defrosts and then toasts bread.
Reheat button reheats without drying out the toast.
Extra-wide slots accommodate the thickest bagels, baguettes and toasts.
Long-life quartz elements provide faster and consistent browning leaving bread crisp on the outside yet still moist on the inside.
Slide-out crumb tray and double insulated borosilicate glass windows make for easy cleaning and safe use.
Durable stainless-steel construction.
Easy cleaning – no dirt traps.
Did you see that first feature, one-side toasting? How neat is that? What a great Father's Day gift this would make, especially in the Jet Black.
Disclosure: This giveaway is provided to you by Magimix by Robot-Coupe. The views and opinions, as always, are my own. Magimix by Robot-Coupe provided me with a Vision Toaster to keep for ever and ever, but I was not compensated in any other way for this post.