Blueberry Watermelon Feta Mint Salad Recipe
A refreshing Blueberry Watermelon Feta Mint Salad made with a simple balsamic dressing for a perfect sweet and savory salad for any summer celebration.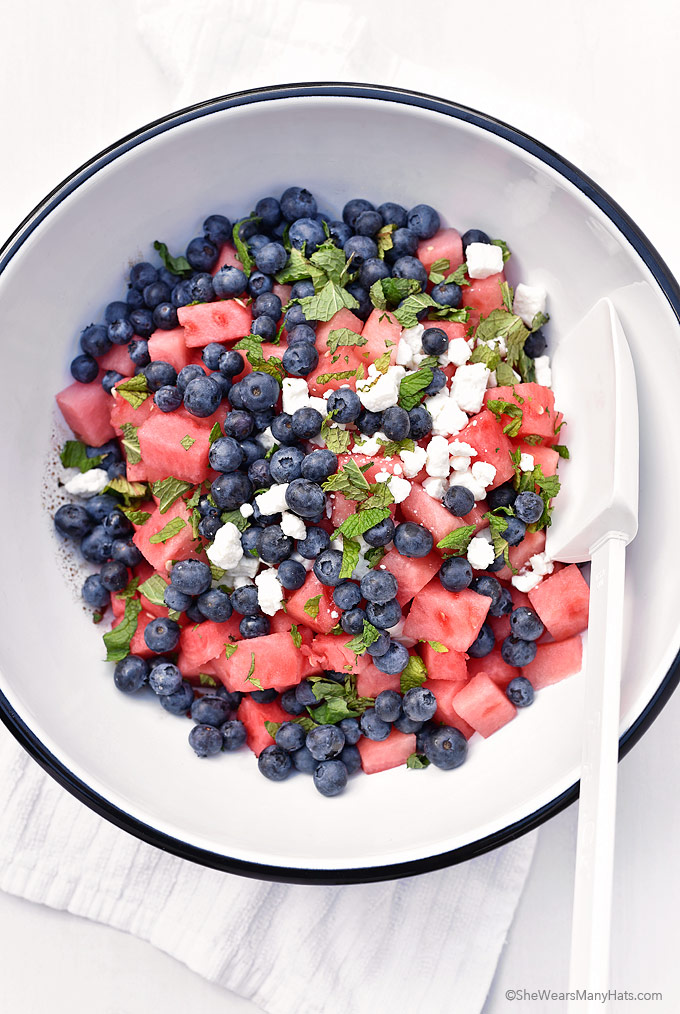 When summer arrives it means fun in the sun and a variety of fresh fruit by the bushel. Yay for summer! Although our fridge is usually packed with fresh fruit throughout the year, we purchased our first watermelon of the season (a tad early, still officially spring) just last week. There's something about cutting into that first watermelon that signals summertime is really, really here. And boy, does a watermelon get gobbled up super quick around here!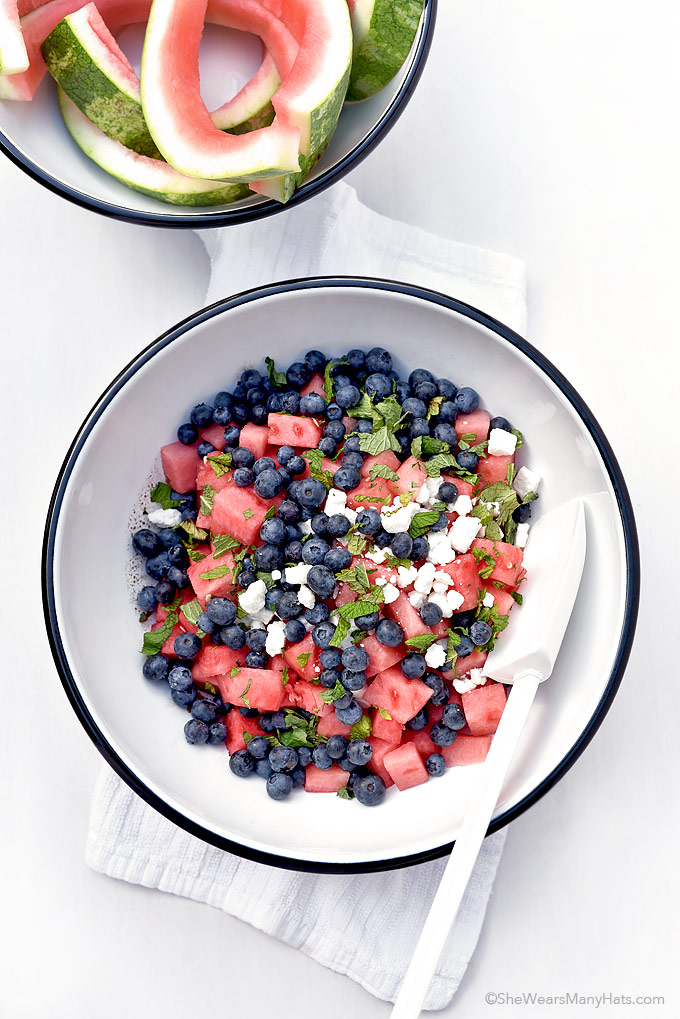 The majority of our first watermelon this year found it's way into one of our favorite salads, this super simple sweet and savory Blueberry Watermelon Feta Mint Salad recipe. The leftovers were kept for snacking. Watermelon is such a fabulous sweet treat, but when combined with a savory balsamic dressing and a bit of feta cheese it really does soar. Watermelon pairs so well with a bit of savory. Add in some blueberries and a bit of mint and this Blueberry Watermelon Feta Mint Salad will be the highlight of any summer menu.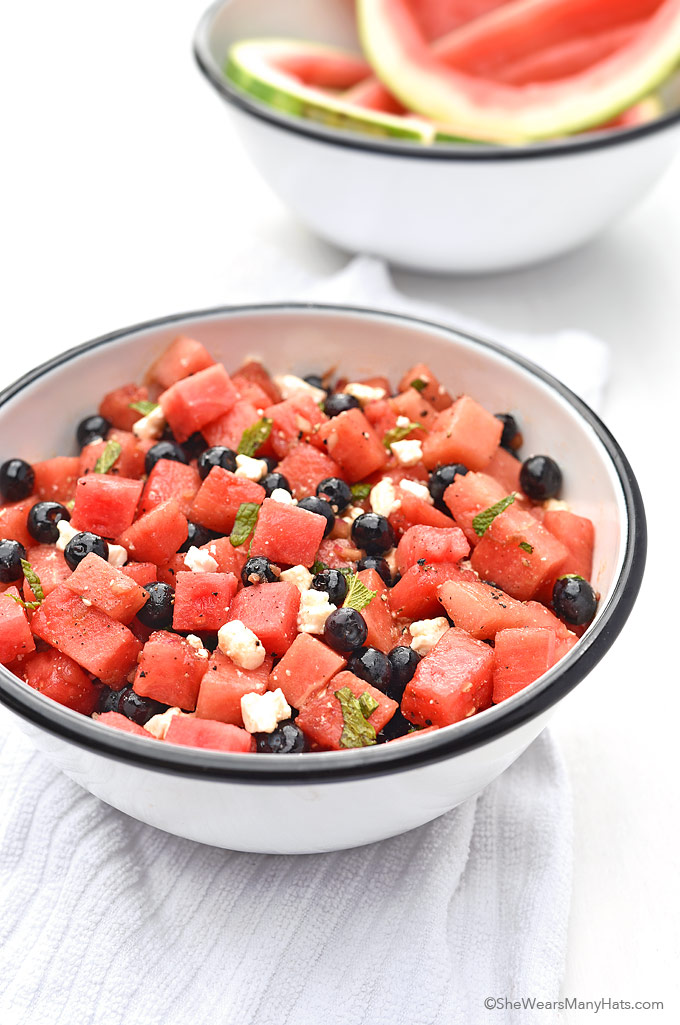 (P.S. I'm enjoying these fabulous Porcelain Enamelware Mixing Bowls from Barn Light Electric. Many thanks to Barn Light Electric for sending me a set of these super functional, heavy duty and heirloom quality bowls. They are used almost daily in our home, and are perfect for prepping. Of course, they are also nice to use as serving dishes too. Our daughter is already eyeing them! I do like these white ones, but they have an array of colors, as well as a graniteware pattern to choose from too!)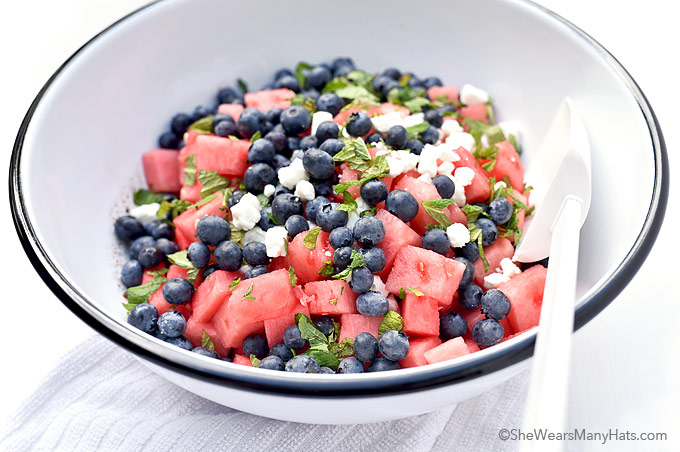 I think you'll enjoy this refreshing watermelon salad. Pick up a watermelon, whip up this easy recipe and see for yourself!
More recipes perfect for summertime:
Blueberry Watermelon Feta Mint Salad Recipe
Ingredients
2 ounces olive oil
1 ounce balsamic vinegar
1/2 teaspoon salt
1/2 teaspoon ground black pepper
1/4 cup finely diced red onion
8 cups diced watermelon
2 cups fresh blueberries
1/4 cup rough chopped fresh mint leaves
1/2 cup crumbled feta cheese
Instructions
In a large bowl, whisk together olive oil, balsamic vinegar, salt, pepper and diced red onion.
Add the diced watermelon, blueberries, mint and feta cheese to bowl. Gently toss to coat.
Notes
This salad tends to get watered down the longer it sits because of the amount of water in the watermelon. If wanting to prep ahead, keep diced watermelon separate until an hour or so before serving, then toss together to serve.

Originally published June 21, 2016.