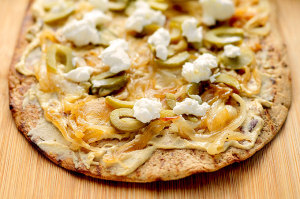 This Hummus Olive Goat Cheese Flatbread Recipe makes an easy option for lunch, snack-time, or dinner.
Leftovers can get boring, but I've got a plan of attack thanks to the handy dandy wrap and Sabra Hummus: Rosemary Hummus Turkey Cranberry Wraps.
Making hummus is easy as, well… hummus. This recipe replaces the usual chickpea (or garbanzo bean) with yummy black beans. It's tasty and spicy and garlicky and… you fill in the blank after you try it.